Distance Learning
Let's Go Whale Watching in Glacier Bay!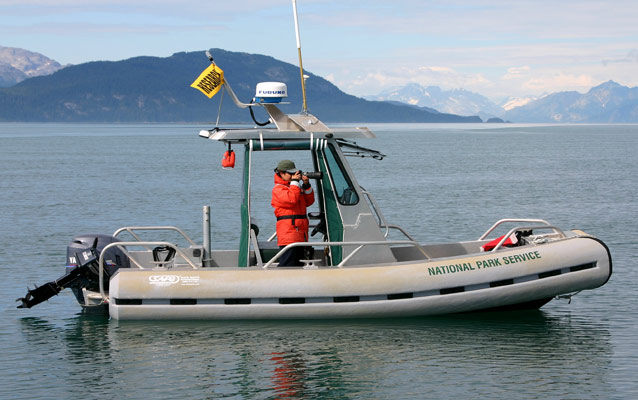 Glacier Bay is home to one of the world's most intriguing marine mammals, the endangered Humpback Whale.  Each year these whales make a 2,000 mile journey from their breeding grounds in Hawaii to the cold, nutrient rich waters of the North Pacific. Once in Alaska, they spend their entire summer, up to 23 hours per day, feeding on small schooling fish. In a single gulp, a humpback whale takes in more water (15,000 gallons) than a typical home uses in 5 months. A whale's tongue alone weighs 1 ton, which a whale uses to press all that water through its built-in, food filter - its baleen. While the statistics are astounding, they can not describe the beauty and uniqueness of each individual.
Come join a Glacier Bay Park Ranger on an interactive journey to learn more about this endangered species. Students will take a look at how Humpback Whales interact with their environment and what Park Researches are doing to protect them. 
How to Participate
Scheduling and Registration:
Rangers are available to present programs in January and February. Programs must be presented using videoconferencing technologies, such as Polycom or LifeSize. We cannot present programs using Skype.
There are two ways to request a program:

Please contact us with questions or call us at 907-697-2650 or 907-697-2691.
We look forward to visiting with your class!
Details
Subject:

Biology: Animals, Conservation, Ecology, Environment, Marine Biology, Oceans

National/State Standards:

NS. K-4.3 Life Sciences:
Characteristics of Organisms, Life Cycles of Organisms, Organisms and Their Enviornments
NS. K-4.6 Personal and Social Perspectives: Changes in Environment


type:

Distance Learning