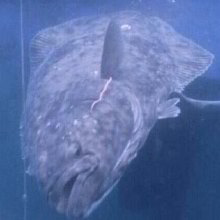 Amazing FACTS about halibut:
The Pacific halibut (Hippoglossus stenolepis) was called "haly-butte" in Middle English, meaning the flatfish to be eaten on holy days.
The Pacific halibut has a flat, diamond-shaped body.
Pacific halibut are found in a broad arc of the temperate North Pacific Ocean, extending from Hokkaido, Japan, and the Sea of Okhotsk, to the southern Chukchi Sea and ending at Point Camalu, Baja California, Mexico.
Halibut are bottom-dwellers and live in waters to a depth of 1200 m.
Halibut are the largest of all flatfish. An adult halibut has been measured at 8 feet long, 500 pounds, and with a life span of more than 40 years!
Halibut have small scales embedded in the skin.
While halibut are born with an eye on each side of their head, as they grow, one eye migrates so that both eyes end up on the same side of their head (on the upper side), which enables them to see predators and prey better as the halibut lay camouflaged on the sea bottom.
The upper side of the fish tends to look like the ocean bottom. The underside is lighter, resembling the sky as seen from below. This protective coloring helps the fish hide from predators and prey alike.