Glacier Bay crabs lesson plans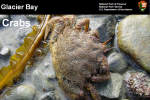 Glacier Bay Crabs
Check out this slideshow to learn more about crabs and crab research in Glacier Bay.
Powerpoint presentation 4mb
The Dungeness crab (Cancer magister) is a popular shellfish that inhabits bays, estuaries, and the nearshore coast of Alaska. The Dungeness crab supports both a commercial fishery and a personal use fishery in Alaska.
Dungeness crabs are related to shrimp, lobster, and other crabs. They have a broad, oval body covered by a hard chitinous shell, four pairs of walking legs and a pair of claws. The Dungeness crab has short, small legs in relation to its body size and it has no spines on the top side of its carapace (shell).
This unit invites students to learn more about this interesting crustacean, especially those living in Glacier Bay National Park and Preserve. They will study the crab's life history, its range in the marine preserve of Glacier Bay and the effect closing the bay to commercial fishing has had on the animal's well-being. This unit is designed for grades 5-8. Activities and handouts usually will be written to upper elementary and lower middle school levels with some extensions to adjust for the younger and older students.