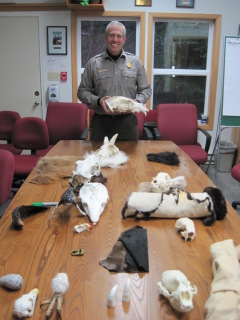 Have you ever wanted to take your students into the wilds of Glacier Bay, Alaska, but your boat wasn't big enough? Well now our Park Rangers can bring Glacier Bay directly to YOU.
If your school has video conferencing equipment, your class now has the opportunity to experience a LIVE interactive visit with a park ranger at Glacier Bay National Park. During the program, students will be interacting with the ranger, answering and asking questions!
Our programs are curriculum-based (designed to meet Alaska state teaching standards) and are appropriate for grades K-5. The programs are free and a great way to introduce your students to this amazing national park and to the vast state of Alaska.
If you have video conferencing capabilities and are interested in scheduling a presentation, please contact us through email or phone at (907)-697-2650.