Activity #2 Dungeness Crabs at Home in Glacier Bay
Teaching Note:
For students who need help reading the resources used in this activity, you may read it with them, distribute copies of the Crab Glossary, and/or form guided reading groups.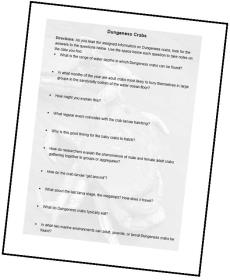 1. Read: Dungeness Crabs at Home
Divide the Web sites listed under Crabs in Resources among the student groups. Distribute Dungeness Crabs and allow students to work together in small groups to read about the movements and habitats of Glacier Bay's Dungeness crabs. Then, discuss:

What is the range of water depths in which Dungeness crabs can be found?
Answer: .5 meters – 180 meters
In what months of the year are adult crabs most likely to bury themselves in large groups in the sandy/silty bottom of the water ocean floor?
Answer: winter months: November through early spring
How might you explain this?
Answer: probably to survive the winter storms and strong currents
What regular event coincides with the crab larvae hatching?
Answer: phytoplankton bloom
Why is this good timing for the baby crabs to hatch?
Answer: plenty of food available for the newly hatched larvae
How do researchers explain the phenomenon of male and female adult crabs gathering together in groups or aggregates?
Answer: Females gather in groups during the winter months while they incubate their eggs. Males may group in a kind of schooling phenomenon to gain protection from predators. Also, the depressions or trenches in which they group and that provide protection from predators, are rare.
How do the crab larvae "get around"?
Answer: They drift on the currents.
What about the last larva stage, the megalops? How does it travel?
Answer: Megalops are relatively strong swimmers.
What do Dungeness crabs typically eat?
Answer: Dungeness crabs are foragers. They scavenge the sea bottom for organisms such as shrimp, mussels, small crabs, clams and worms.
In what two marine environments can adult, juvenile or larval Dungeness crabs be found?
Answer: intertidal and subtidal
2. Student Resources: The Intertidal Zone and The Subtidal Zones and the Ocean
Divide the following resources among three student groups:
NPS Glacier Bay – Intertidal and Subtidal Zones
https://www.nps.gov/glba/naturescience/intertidal-subtidal.htm

NPS Glacier Bay – Intertidal and Subtidal Photo Gallery
https://www.nps.gov/glba/naturescience/intertidal-subtidal.htm?eid=206819&root_aId=123#e_206819

NPS Glacier Bay – Nature and Oceans
https://www.nps.gov/glba/naturescience/oceans.htm
Teaching Note: If appropriate, subdivide the student groups into smaller reading groups to help them as they read about these three important Glacier Bay environments that Dungeness crabs call home.
When the students have completed their reading, discuss:
How would they describe a crab's eye view of each habitat?
What other creatures would live there?
What sensory (sight, sound, touch, etc.) experiences might be characteristic of each zone?
Answer: Answers will vary with students' imaginations, but information should be verifiable from their reading.
Last updated: April 14, 2015