Curricula
The Marine Environment of Glacier Bay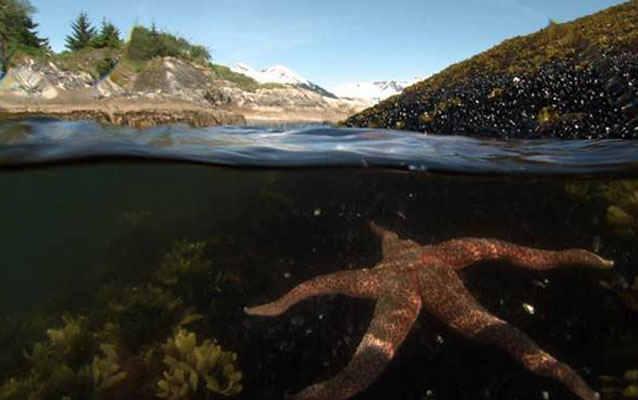 Focus Concept:
The unique biodiversity of the Glacier Bay Marine Preserve
Sub-concepts:
The oceanography of Glacier Bay's complex fjord estuarine systems; bathymetry of Glacier Bay; the physical, chemical, geological and biological influences on the Bay's astonishing biodiversity; the interactions between the bay's complex oceanography, the abundant phytoplankton blooms and its biodiversity; the natural history of the bay and its formation; the effect of global warming on the bay's ecosystems and habitats
Generalization:
The marine wilderness of Glacier Bay National Park and Preserve includes tidewater glaciers, snow-capped mountain ranges, ocean coastlines, deep fjords, and freshwater rivers and lakes. This diverse land and seascape hosts a mosaic of plant communities and a variety of marine and terrestrial wildlife.
Guiding Question
What factors contribute to the abundant biodiversity of Glacier Bay and how can that biodiversity be maintained?
Critical Content
Students will know ...
The forces that shaped and formed Glacier Bay
The physical, chemical, geological and biological influences on the biodiversity of Glacier Bay
The natural history of Glacier Bay
Skill Objectives
Students will be able to ...
Describe and explain the complex oceanography of Glacier Bay
Describe and explain the interactions of the physical, chemical, geographical and biological influences on Glacier Bay's biodiversity.
Build or design a Rube Goldberg type of machine in which they illustrate the oceanographic interactions they found in Glacier Bay.
Analyze the effect of the oceanography of Glacier Bay on the abundant blooms of phytoplankton and understand how these blooms in turn support the whales, eagles and bears that call Glacier Bay home.
Enact an imaginary award dinner with speeches and interviews during which Glacier Bay National Park and Preserve wins the Biodiversity Award of the Year.
Research a variety of resources to create illustrations to describe and analyze changes to Glacier Bay over time from the point during which glaciers covered the entire region to today.
Research to make predictions about the possible effect of global warming on Glacier Bay.
Additional Resources
Details
Subject:

Biology: Animals, Biology: Plants, Oceanography

National/State Standards:

Science as Inquiry, Life Science, Science in Personal and Social Perspectives, History & Nature of Science, Data Analysis & Probability, Environment & Society, The Uses of Geography

type:

Curricula