Glacier National Park Status Update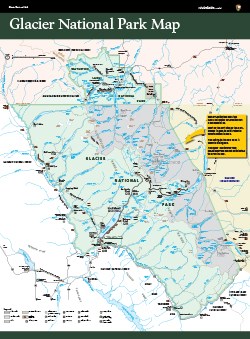 Glacier National Park Continues Partial Reopening
Following guidance from the White House, Centers for Disease Control and Prevention (CDC), and state and local public health authorities, Glacier National Park closed the park to visitors on March 24, 2020, due to the COVID-19 pandemic. The park began increasing recreational access and services on a limited basis on June 8. Vehicles can now access Logan Pass and Rising Sun from the West Entrance. There is no access to St. Mary, and vehicles need to turn around at Rising Sun and return to West Glacier. There is no gasoline available in the park. Please see the map shown on this page for details on which areas are open and which areas remain closed.
What's Open and What's Closed
Entrance to the Going-to-the-Sun Road is available 24-hours a day, between West Glacier and Rising Sun. Other areas (Belly River, Many Glacier, Cut Bank, and Two Medicine) of the east side of the park, from the Continental Divide to the park boundary, remain closed to all access. No entrance to the park is permitted from the east side.

Congestion
Areas along the Going-to-the-Sun Road are experiencing heavy visitation. Expect limited parking and occasional access restrictions. Access restrictions will be implemented when parking areas become full or when congestion warrants.

Areas of the North Fork, including the roads to Kintla and Bowman Lakes are open. Expect temporary closures at the Polebridge Ranger Station, due to full parking lots and congestion.

Biking
There are restrictions for bicycles on sections of Going-to-the-Sun Road during certain hours. See https://www.nps.gov/glac/planyourvisit/bicycling.htm for details.

Camping
The Fish Creek Campground is the only open campground in the park this summer. Reservations may be made through recreation.gov. Fish Creek will close for the season on September 7, 2020. If the decision is made to provide camping in the park after Labor Day, updates will be posted here. Other campgrounds in the park are not scheduled to be open this summer.

Boating
Lake McDonald is currently the only lake open to boating. The Aquatic Inspection Station is open at Apgar from 9am-7pm. All watercraft must be cleaned thoroughly before coming to inspection station. Please review the park's website regarding watercraft prior to arrival.

Visitors should come prepared and follow all CDC and local health guidance by practicing good hygiene and social distancing. Face coverings are recommended where social distancing is not possible. People who are sick should stay home and not visit the park. The CDC has provided specific guidance on visiting parks and recreational facilities.
Lodges, Restaurants, and Other Services
Glacier's concessioners and Commercial Use Authorizations (CUA) holders continue to make difficult decisions concerning how to adapt operations for this coming summer while prioritizing guest and employee safety. Visitors should contact the concessioners individually to keep abreast of changing operations.

Boat Tours and Rentals
Glacier Park Boat Company is suspending all boat tour and small boat rental operations for the 2020 season.

Waterton Inter-Nation Shoreline Cruises operates out of Waterton Lakes National Park in Canada. Boat landings at Goat Haunt will not be permitted in 2020.

Lodging
Glacier National Park Lodges has announced the delayed opening of their lodging, food service, and gift shop operations in the park. Lake McDonald Lodge and the Village Inn are currently open. The Lake McDonald Lodge lobby and restrooms are closed to day-use visitors. Food service is take-out only. Order on lakeside exterior of building. Bar and Lodge gift shop are closed

Granite Park and Sperry Chalets plan to open as previously scheduled. They will be open to overnight guests only. Prior to the full opening of the Going-to-the-Sun Road, guests of Granite Park Chalet will be shuttled to the Loop and will access the chalet via the Loop Trail.

The following lodging locations will not operate in 2020.
Rising Sun Motor Inn
Many Glacier Hotel – lodging, food service and gift shop
Swiftcurrent Motor Inn and Campstore

Bus Tours
Sun Tours and Glacier National Park Lodges Red Bus Tours will not operate this summer.

Restaurants, Campstores, Food Service and Gift Shops
Food service throughout the park will be limited.
In Apgar there is a campstore with limited grocery supplies, gift shops, recreational equipment rental, and a restaurant.
Food service at Lake McDonald Lodge is take-out only and is served from the lake side patio. The Campstore at Lake McDonald Lodge is open. Staff will regulate access to maintain social distancing. No self-serve food items.
The Rising Sun Campstore is open.Take out food service is available at the Two Dog Flats Grill.
The campstore at Two Medicine will not operate in 2020.

Horseback Rides
Swan Mountain Outfitters began horseback rides at Apgar on June 13 and at Lake McDonald corral on June 20. The Many Glacier Corral will not operate this summer. Contact them for dates of service.

Guided Hiking Trips
Glacier Guides is providing guided hiking and camping as trail systems and backcountry campgrounds access allows. Day hikes started on June 12 and overnight trips on June 26.
Trails and Backcountry Camping
Check the Trail Status page for updates on open and closed trails.
Trails on the west side of the park are open including the Highline Trail, Loop Trail, Sperry Chalet Trail, and the Gunsight Lake trail.
Trails in the Many Glacier and Two Medicine Valleys are not open this summer. Those trails include the popular Grinnell Glacier, Iceberg Lake, Cracker Lake, Cobalt Lake, Dawson/Pitamaken Pass, and Scenic Point trails.

Due to current and anticipated staffing and operational limitations related to the COVID19 outbreak, combined with the uncertainty of trail and backcountry campground openings, all advance backcountry advance reservations were cancelled. Advance reservation applicants were notified of the cancellations, and their application fees were refunded. The park will not accept or process advance reservations for backcountry camping for the remainder of 2020.

There will be no undesignated camping permits or advance reservations for the 2020 summer season. All backcountry permits will be obtained using the first come, first served walk-in system.

Permits are available on the west side at Apgar Permit Center from 8am-4pm.
Please use some of our online planning tools ahead of time to speed your permit process along. The main Backcountry Camping page has complete instructions for planning and obtaining a permit. Also, the "What's Available Tonight" page will show you which campgrounds are open and which ones are still closed.

Masks or cloth face coverings are strongly encouraged to be worn while inside backcountry permit office. Backcountry staff will be wearing them out of respect for public health. Physical distancing guidelines will be observed at all backcountry permit offices, which may result in longer wait times and/or lines outside the office buildings. A maximum of four people will be allowed in the backcountry office at any time. Any additional party members may join the group for a safety briefing outdoors after a permit is obtained.

Additional potential health risks must be assumed for overnight backcountry trips, ex. shared pit toilets and food prep areas in all campgrounds. Please consult the park website for further information on preparedness before embarking on a backcountry trip.

Cancellation of backcountry permit advance reservations will not impact day use of trails.
Last updated: July 31, 2020