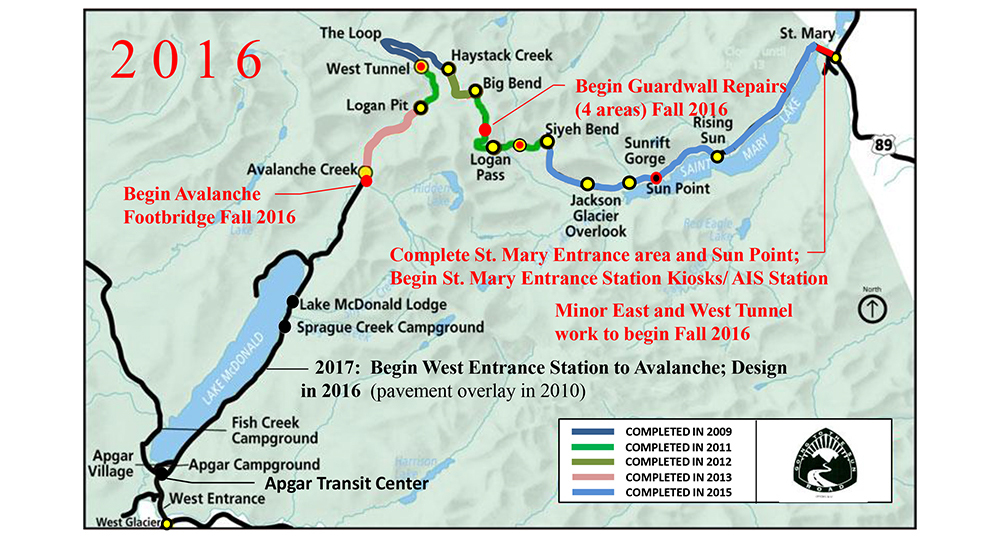 Going-to-the-Sun Road has been undergoing a major rehabilitation project since 2007. Visit the Federal Highway Administration's project page for construction information, photos, and mapping.
Fall/Winter 2016
Activity near the St. Mary Entrance Station:

Going-to-the-Sun Road is closed to vehicle traffic just before St. Mary Entrance Station due to the entrance station rehabilitation project. There is no parking at the St. Mary Visitor Center. Hikers, bikers, and campers accessing Going-to-the-Sun Road or St. Mary Campground should park in available roadside spaces along the Going-to-the-Sun Road or at the 1913 Ranger Station. Weather conditions permitting, bicycles and pedestrians can access the area beyond the entrance station on the newly completed bike path.
At the Avalanche Creek area, visitors can use the boardwalk portion of the Trail of the Cedars leading to the Avalanche Lake Trailhead. However the south portion of the trail is closed to improve safety and construct a new pedestrian bridge over Avalanche Creek. Additionally, a restroom along the Trail of the Cedars will be rehabilitated to meet accessible standards. A portion of this project is being funded by the Glacier National Park Conservancy.

Spring/Summer 2017
The spring and summer of 2017 will bring the final phase of the Going-to-the-Sun Road rehabilitation project, including 14 miles (22.5 km) of parking and signage improvements from the park boundary in West Glacier to beyond the Avalanche developed area. Paving improvements will occur from the park entrance station to the intersection with Apgar Loop Road on Going-to-the-Sun Road.