Visiting in Fall

Fall in Glacier National Park can be a wonderful time to visit, however, visitors at this time of year have to be more self-sufficient when they are in the park. Generally, the park is a lot quieter, wildlife is more active, and the trees are turning colors. On the west side of the park, the trees begin changing color mid-September, and on the east side, fall color appears more towards the end of September and beginning of October. The last color change is when the larch trees (a deciduous conifer that loses its needles), mainly on the west side of the park, turns a gold color in mid October. Sometimes the best road for viewing the larches is on Hwy 2 around the southern boundary of the park.
Many services are still fully available through mid to late September. By the end of September, however, all of the lodging and many other concession services inside the park have closed for the season.
During shoulder seasons, lodging and other guest services are available in gateway communities. Contact respective Chambers of Commerce for listings. If you are looking for accommodations such as hotels, please visit the Travel Montana website to find accommodations outside Glacier National Park. Restaurants and stores can be difficult to find depending on your location, so come prepared.
Visitor information can be obtained in person at Headquarters (open Monday through Friday year round), the Apgar Visitor Center (weekends only after mid- October), St. Mary Visitor Center (closes early October) and the Logan Pass Visitor Center (closes mid-September). Check the Operating Hours page for specifics. It is also good to check the Current Conditions page and park webcams before setting out.
Outdoor Activities
Fall is a great time to camp within the park. After Labor Day, no reservations are taken, all camping is first come, first serve and campgrounds rarely fill. Some of our campgrounds close in the fall, while others become primitive (no running water, nor flush toilets and half price). By November 1, Apgar and St. Mary Campgrounds are the only auto campgrounds that remain open and no fees are charged for the winter. For exact operating dates of the campgrounds within Glacier, please visit our Campground Status page.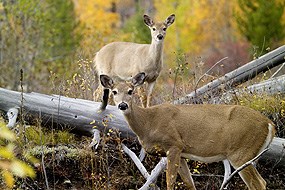 Fall is a great time to watch for wildlife. Winter preparations are being made at this time by all animals, especially by bears, as the long winter requires them to fatten up as much as possible. You may notice wildlife along roadsides as they graze and eat. Please do not approach or feed wildlife, and observe them with binoculars, spotting scopes, or long telephotos lenses. For more information, see our Wildlife Safety page.
Our weather can vary quite a bit. Although, you could have very nice weather, snow could occur at all locations during the fall, so be prepared for winter like conditions. If we do have snow that warrants road closures, we close roads until we can get them plowed out.

Roads
The Going-to-the-Sun Road is less congested with vehicle traffic during the fall. While portions of the road remain open all year, the alpine section of this road generally closes for the season the third weekend of October, regardless of weather. Some sections may close earlier to accommodate accelerated road rehabilitation work. Please see our Going-to-the-Sun Road Project page for detailed information about planned closures. Other park roads remain open until the 3rd week of November. If you are planning on traveling to Canada, the Chief Mountain Port of Entry is open from Labor Day to September 30th, from 9am to 6pm and then closes for the season. The Port of Piegan/Carway, on Hwy 89, is open year round, 7am to 11pm. Keep an eye on our Current Road Status page for live status of all park roads.
Last updated: October 6, 2017