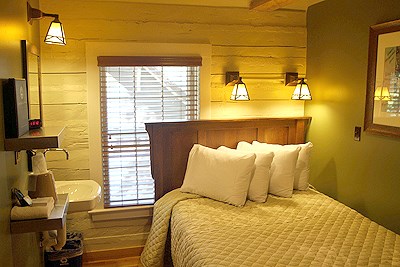 Lodging
Lodging in the park varies from rooms in historic grand hotels to cozy cabins and from comfortable motels to backcountry chalets. Reservations are strongly encouraged. Rooms book up fast, especially for the peak months of July and August.

Apgar
Apgar Village Lodge
Village Inn Motel

Lake McDonald
Lake McDonald Lodge
Motel Lake McDonald

Many Glacier
Many Glacier Hotel
Swiftcurrent Motor Inn

Rising Sun
Rising Sun Motor Inn

Backcountry Chalets
Sperry Chalet and Granite Park Chalet

Follow these links for accommodation overviews, photos, and reservation information:
Glacier National Park Lodges/Xanterra Parks & Resorts
Operates the Village Inn Motel, Lake McDonald Lodge, Rising Sun Motor Inn, Swiftcurrent Motor Inn, and Many Glacier Hotel
(855) 733-4522 - (855) SEE-GLACIER
Outside the United States (303) 265-7010
Glacier Park Inc.
Operates the Apgar Village Lodge and Motel Lake McDonald, next to Lake McDonald Lodge
Sperry Chalet
and
Granite Park Chalet
Glacier National Park has two backcountry chalets that visitors can hike to for overnight accommodations. Both are operated by Belton Chalets Inc. For reservations contact: