Help Stop Aquatic Invasive Species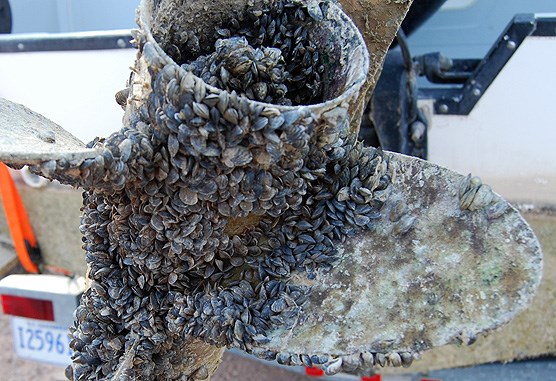 Waterton-Glacier International Peace Park is dominated by large fjord-like glacial lakes. For many visitors they are a primary destination. Boating, fishing, or just plain hanging out on the shore and skipping rocks consume many a relaxing hour and are the stuff of magical memories. We need your help to keep it that way.
On the surface things look fine, but in the past stocking of non-native fish changed the ecosystems of most park lakes. These fish out compete native species for food and habitat. We need to prevent additional non-native species of animals or plants from accidentally being introduced, because each small change effects the overall health of park waters.
Use this field guide to help you identify AIS.
Don't Move a Mussel
Now there is a new and serious threat. Imagine a future where going to your favorite rock-skipping beach, you find the shoreline matted with tens of thousands of small mussel shells, with everything cemented together in a sharp, smelly mess. Imagine once productive fisheries wiped out by these new invaders. It's not science fiction, impacts are already occurring in waters in the Great Lakes, eastern provinces and states, the prairies and plains, and more recently in the Southwestern United States.
Since the 1980s freshwater zebra and quagga mussels have steadily advanced westward, transported on trailered boats. Very recently, a mussel-carrying boat was intercepted at a marina on Flathead Lake. The boat had come from the Southwest. Flathead Lake is just downstream from Glacier.
Protecting the waters of the Peace Park requires immediate action, both by the parks and by every boater.
Glacier National Park Watercraft Launch Regulations
Glacier National Park waters are generally open for boating from mid-May through October. All watercraft require an NPS inspection and permit before launching. Prior cleaning, draining, and drying of all watercraft, both externally and internally, will reduce inspection time significantly.

Gas Powered Motorized and Trailered Watercraft:
Lake McDonald is the only lake where gas powered trailered motorboats may launch, subject to the following regulations
Inspection:

by an approved NPS inspector certifying boat and trailer are free of AIS

Sealing:

After inspection, boats will be sealed to their trailer

Drying:

After a 30 day drying time (Quarantine), the seal will be removed by an NPS inspector and the boat will be allowed to launch.

Relaunching:

Boaters wishing to launch subsequently on Lake McDonald can have their boats resealed immediately after exiting the lake during normal station operating hours. These resealed boats may launch without another quarantine period as long as their seal remains intact.

Other Agency Inspections:

Glacier National Park will honor Inspection and sealing by Montana State, Whitefish Lake, and Blackfeet tribal inspectors, subject to verification of sealing date and 30 day dry time (quarantine).
Non-Motorized Watercraft and Non-Trailered Electric Motorized Watercraft (canoes, paddleboards, kayaks, rowboats, rafts, catarafts, sailboats, etc.):
Launch on all open waters, subject to the following regulations
Trailers:

Trailered launching prohibited

Water cooled electric motors

: Prohibited

Inspection:

Same day launch after NPS inspection certifying boat and/or electric motor are free of AIS
Other Requirements:
All watercraft and watercraft systems must be accessible for inspection: uninflated rafts or float tubes, watercraft with internal water holding tanks, wash systems, etc. will be denied a launch permit.

New, unused inflatable watercraft will not require an inspection; however they will require a permit before launching.

An inspection will be required upon each entry to the park if intending to launch. Visitors staying overnight in the park will not need a daily inspection.

West side lakes (McDonald, Bowman, Kintla) close on October 31.

Eastside Lakes (Two Medicine, St. Mary, Many Glacier) close on September 30.
2018 Inspection Locations and Hours of Operation
Lake McDonald (Across street from Public Boat Ramp)
May 12 – May 31
8:00 am to 4:00 pm
June 1 – October 31
7:00 am to 9:00 pm (Hours adjusted for waning daylight)
North Fork (Polebridge)
There are no watercraft inspection stations in the North Fork region. Bowman or Kintla Lake boaters must stop at the Lake McDonald inspection station for a launch permit. After successful inspection, they must proceed directly to their North Fork launch destination.
*North Fork residents should contact the Polebridge Ranger Station for alternate inspection procedures.
Two Medicine Ranger Station
June 1 – September 29
7:00 am to 4:30 pm
St. Mary Visitor Center
June 1 – September 29
7:00 am to 4:30 pm
Many Glacier Ranger Station
June 1 – September 29
7:00 am to 4:30 pm

Glacier National Park will honor motorized watercraft inspections and seals from Montana State, Whitefish Lake, and Blackfeet Tribal Inspectors. Non-motorized watercraft will only be issued launch permits after inspection by Glacier National Park inspectors.

For specific information on recreational boating in Glacier National Park, please visit the Boating page.

Waterton Lakes National Park Permit Regulations
Currently, motorized and trailer-launched watercraft are prohibited from launching in all waters in Waterton Lakes National Park. A self-inspection permit is required to launch any human-powered and some wind-powered watercraft in the Park. This includes:
canoes
kayaks
paddle boards
kite boards
wind surfers
row boats
inflatable watercraft
To obtain the permit you must complete a self-inspection form, which will act as a permit. Watercraft users must ensure their permits are available for examination. Self-inspection forms will be available at the park gate, Visitor Reception Centre, Operations Building and Wardens Office, campgrounds, and select locations in town. Permit stations will also be located throughout the park at boat launches and the most popular boating areas.
More information is available on the Waterton Lakes National Park Lakes Activities page.
Additional Aquatic Invasive Species Information
fwp.mt.gov/fishAndWildlife/species/ais/
www.100thmeridian.org
nas.er.usgs.gov/default.aspx
Last updated: January 8, 2018