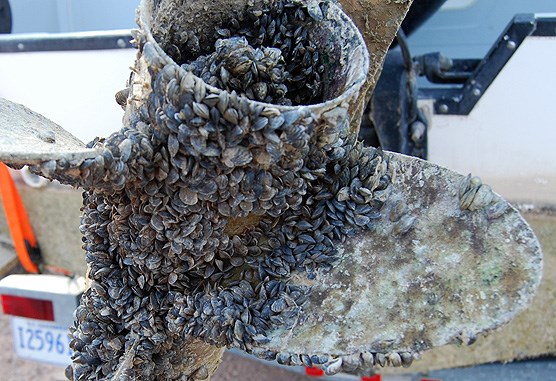 Waterton-Glacier International Peace Park is dominated by large fjord-like glacial lakes. For many visitors they are a primary destination. Boating, fishing, or just plain hanging out on the shore and skipping rocks consume many a relaxing hour and are the stuff of magical memories. We need your help to keep it that way.
On the surface things look fine, but in the past stocking of non-native fish changed the ecosystems of most park lakes. These fish out compete native species for food and habitat. We need to prevent additional non-native species of animals or plants from accidentally being introduced, because each small change effects the overall health of park waters.
Use this field guide to help you identify AIS.
Don't Move a Mussel
Now there is a new and serious threat. Imagine a future where going to your favorite rock-skipping beach, you find the shoreline matted with tens of thousands of small mussel shells, with everything cemented together in a sharp, smelly mess. Imagine once productive fisheries wiped out by these new invaders. It's not science fiction, impacts are already occurring in waters in the Great Lakes, eastern provinces and states, the prairies and plains, and more recently in the Southwestern United States.
Since the 1980s freshwater zebra and quagga mussels have steadily advanced westward, transported on trailered boats. Very recently, a mussel-carrying boat was intercepted at a marina on Flathead Lake. The boat had come from the Southwest. Flathead Lake is just downstream from Glacier.
Protecting the waters of the Peace Park requires immediate action, both by the parks and by every boater.