Road Construction and Infrastructure Project Work for 2021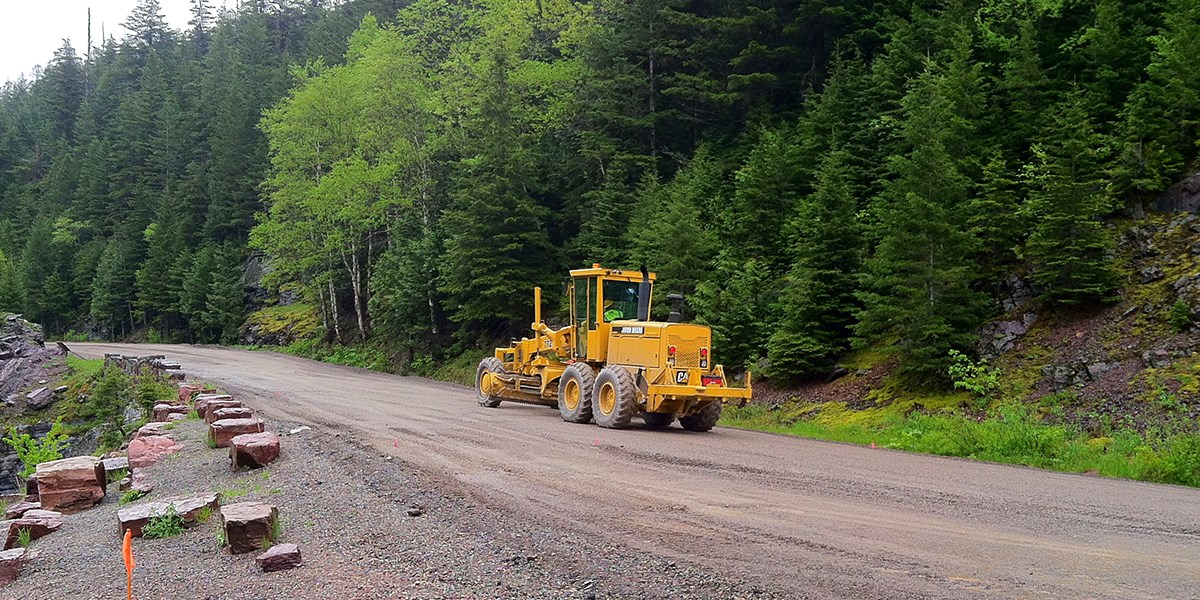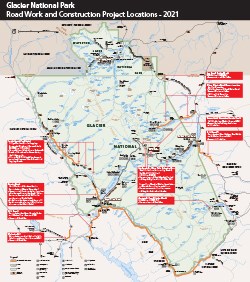 Road reconstruction typically requires warmer weather. In this part of the country that means road construction overlaps with the primary visitor season of May through October.

In the summer of 2021 there will be several road construction projects that may impact travel times within the Glacier National Park area.

For a listing of roads currently open or closed please click here.
As You Approach the Park
U.S. Highway 2
Highway 2, along the southern boundary of the park, will see extensive road work between Hungry Horse, MT and the Nyack Flats area. Expect traffic delays along this route.

U.S. Highway 89
The section of Highway 89 immediately east and south of St. Mary, MT will be under construction this summer. This is the continuation of a multi-year project that has been ongoing for the last few summers. Expect traffic delays.
Inside the Park
Going-to-the-Sun Road
Vault toilets will be installed at Big Bend and St. Mary Falls between June 10, 2021 and August 26, 2021. At both locations, expect limited parking and minor traffic delays.

A trail hardening project at Lunch Creek (just east of Logan Pass) and Upper Road Camp (just west of Haystack Creek) may require traffic delays. Construction equipment will use some of the parking areas limiting available parking spaces. Logan Pass will have gates installed at the entrance and exit of the parking lot and a new shelter will be constructed at the Logan Pass Transit Stop, to help shield against inclement weather.

Guardwall work will continue this summer at various locations along the Going-to-the-Sun Road as needed.

Many Glacier Road
Two sections of the Many Glacier Road will be under reconstruction in 2021. The section from Babb, MT to the Park Boundary and the section from the Park Entrance Station to the Many Glacier Hotel will be worked on. Expect delays of up to 40 minutes through these sections of the road. Please adjust your estimated travel time accordingly.
During periods of heavy visitation traffic may be stopped at Babb and entrance to the park may be held until traffic or parking congestion has cleared.
The Many Glacier Valley will close for the season on September 19. It was previously announced that the road would close for the season on September 17, but that has been extended to September 19. There will be no access to Many Glacier beginning September 20, 2021.
Camas Road
Road reconstruction work will extend for approximately 5.25 miles up Camas Road, beginning just past the Apgar Visitor Center. Also, there will be a new park entrance station installed just past the turnoff to the Fish Creek Campground. On July 26 through 29, August 2 through 5, and August 9 through 12 there will be night work on the Camas road. It will be closed these dates from 7:00 pm to 6:00 am.
Timeframe of Road Work and Project Construction in Affected Location
(project dates highlighted in yellow)

June

July

Aug

Sept

Oct

Nov

Going-to-the-Sun Road

Big Bend and St. Mary Falls Trailhead

Vault Toilet Installation
Traffic delays and limited parking

Early
June

Late
August

Logan Pass

Weather Shelter Installation
Construction work in parking lot and near walkways.

Early
June

Upper Road Camp and Lunch Creek

Road Work
Expect limited parking and minor traffic delays

North Fork and Camas Road

Camas Road

Road Work and Entrance Station Construction
Expect 30 minute delays from Apgar to 5.25 miles up Camas Road.

July 26 - 29, August 2 - 5, and August 9 - 12, the Camas Road will be closed from 7:00 pm to 6:00 am to facilitate construction activities.

Many Glacier

Many Glacier Entrance Road

Road Rehabilitation
Expect 40 minute delays between Babb, MT and the park boundary and between the Entrance Station and the Many Glacier Hotel.
Road closed for the season on the evening of September 19.

Highways Outside the Park

U.S. Highway 2

U.S. Highway 89
Last updated: July 26, 2021