Storm Causes Road Closures and Flooding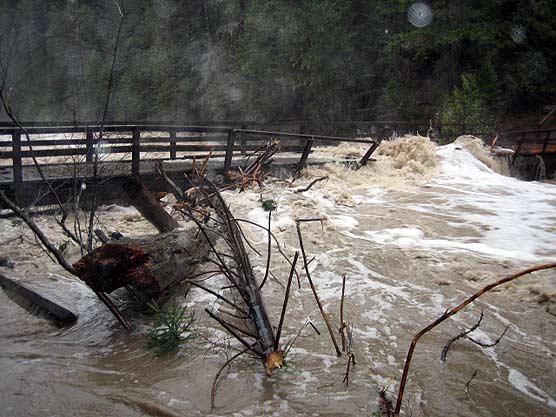 News Release Date:
November 7, 2006
Contact: Matt Graves, 406-888-7942
WEST GLACIER, MONT. – Officials at Glacier National Park report that the Going-to-the-Sun Road (Sun Road) is closed at Lake McDonald Lodge due to high water and flooding from recent rains and melting snow. As of 10 a.m. today, the horse bridge over upper McDonald Creek was underwater and over two feet of water was reported on the Sun Road one mile above Avalanche Creek.
With the present road conditions, and the forecast for additional rain and snow at higher elevations, no projection can be made for re-opening the road above Lake McDonald Lodge. More information will be provided, as it becomes available.
On the east side of the park, the Sun Road is currently open to Rising Sun. All visitors should use caution when traveling park roads and watch for water, fallen trees and debris on the roadways. Additional road closures may occur at any time as conditions warrant.
Photographs of the flooding will soon be posted as a new link to the recent photo page at: https://www.nps.gov/glac/gallery/recent06.htm.   
Current road conditions are available on the park's Web site at: https://www.nps.gov/applications/glac/roadstatus/roadstatus.cfm.
Conditions are also available by calling 511, the Montana Department of Transportation Traveler Information System. If your phone does not support 511, call 1-800-226-7623. Both numbers are toll-free. Select "Glacier Park Tourist Information" from the main menu to hear Glacier's road report.
For further information on the Sun Road and Glacier National Park, visit the park's Web site at www.nps.gov/glac or call 406-888-7800.
Last updated: February 24, 2015