Current Superintendent's Biography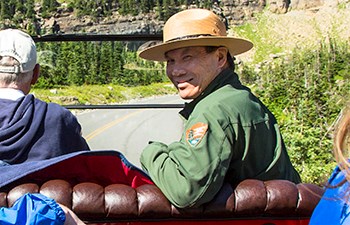 Jeff Mow
Jeff Mow first came to Montana in 1979 and spent four summers working for the USGS doing geologic mapping in the Flint Creek, Anaconda Pintler, and Sapphire Ranges of Montana. Subsequent visits occurred in 1988 during the Red Bench Fire in the North Fork and again in 2010 where he helped facilitate a scenario planning workshop for the Crown Manager's Partnership in Whitefish. Jeff has been the Glacier National Park superintendent since August of 2013.
Most of Jeff's 26 year career with the National Park Service (NPS) has been in Alaska. Over the course of 22 years in Alaska, Jeff served as a law enforcement ranger, Chief Ranger, Management Assistant, and Superintendent across seven NPS units. Most recently he had assignments as the superintendent of Kenai Fjords National Park and the acting superintendent of Denali National Park and Preserve.
Jeff has served on the U.S. Senate Energy and Natural Resources Committee and with the NPS Office of Legislative and Congressional Affairs. His additional experiences have included: 1) DOI Incident Commander on the Gulf of Mexico Deepwater Horizon Oil Spill, 2) investigator on the Exxon Valdez Oil Spill in Alaska, and 3) Policy Advisor to the fledgling NPS Climate Change Response Program.
Jeff lives in Whitefish Montana with his family and they are all passionate about winter sports including all types of skiing and skating. In the "off-season" they enjoy biking, hiking, camping, and paddling.
Last updated: August 29, 2016