Laura Law's Blog - December 2009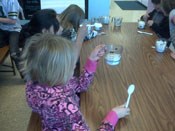 December 2009
This year, the east side of the park is already covered in snow! So we thought we would do some "snow" experiments on our visit to East Glacier School.
We posed the questions: 1)"What happens when we mix a liquid with solid snow?" 2)"What happens when we mix that same liquid with water?" "Does the same thing happen?"
The students had fun making predictions and watching as their "snow cups" turned various colors, gave off different smells, and even changed volume.
The results were entered into a chart and the students looked at the snow on the mountains and thought about its importance as a water resource. They wondered about the types of things that could be mixing with the snow right now, and what would happen when the snow melted. Everyone discussed how important it was to make sure the snow stayed as clean as possible so that when it melted, there would be clean water flowing into the valleys.
Last updated: February 24, 2015