Laura Law's Blog - November 2009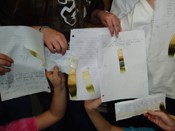 November 2009
What an interesting fall we had! There was an amazing cold snap with days on end of below zero temperatures in the beginning of October that "froze" the deciduous leaves onto the trees.
So I posed this question to West Glacier School students, "Could the red and yellow pigments normally seen as fall colors in the leaves still be there (hidden behind the green)?"
We did a simple chromatography experiment to find out and the students did find other colors in their leaves. The students posted the results of their experiment on the school's website.
It was interesting to see the results and to get us all thinking about the amazing adaptations trees have to get ready for winter, and what can happen when winter comes "early".
Last updated: February 24, 2015