Laura Law's Blog - March 2010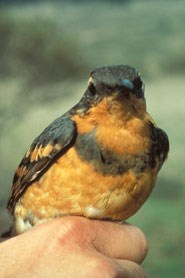 March 2010
I was amazed to hear a varied thrush the other day! Apparently, it's not that unusual for this time of year. I saw a report from the early 1930s from park residents who remarked on a thrush they had heard in February of that year!
In any case, it seems that spring is slowly making its way here. That doesn't mean that we do not have any snow in Glacier. As a matter of fact, the mountains still have quite a bit and it is being monitored all the time. The park's snow and avalanche research team keeps track of snow amounts and snow water equivalent (SWE or the amount of water in the snow) measurements at various sites around the park. They have a great comparison graph of SWE over the years from the Flattop Mountain SNOTEL site (go to their website). Data like this gives researches great information to look for patterns and trends.
I am getting ready for the end of our winter ecology programs and a break in April to get ready for our May spring field trips. I still have openings for education programs in May 2010. Hope you are all having a great winter.
Last updated: February 24, 2015