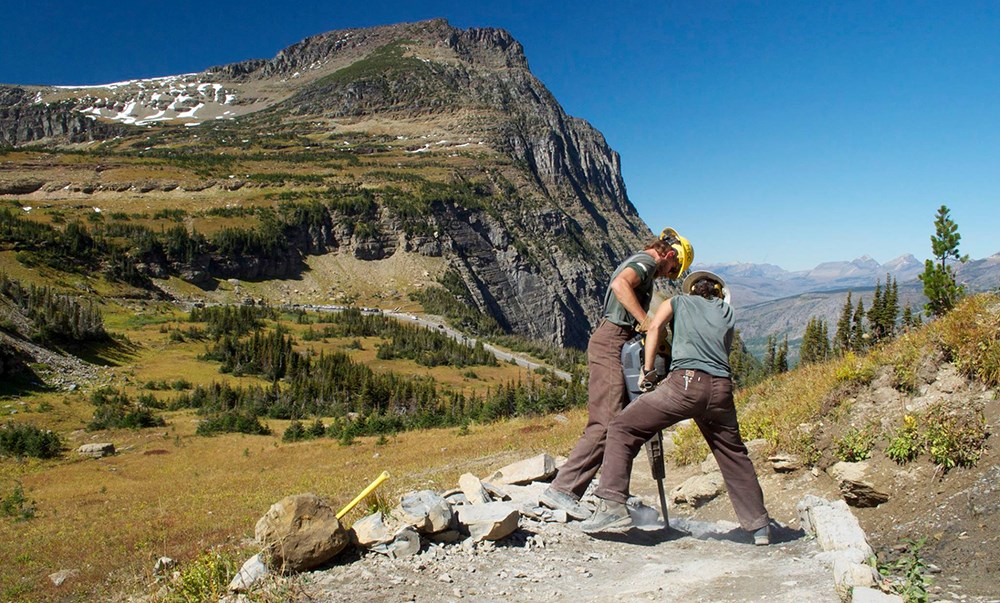 Youth Conservation Programs
The National Park Service strives to inspire and train the next generation of park stewards. There are numerous opportunities for you to live and work in national parks. The experience may help you build your resume for college or a career while demonstrating a commitment to community service. Learn about other youth programs across the country.
Glacier Youth Corps
Ages 15-17
Provides a hands-on conservation opportunity with duties such as fencing, trail maintenance, habitat restoration and revegetation, while living and learning in Glacier. The program consists of two, four-week sessions. (You are encouraged to apply for one four-week session.) Participants will spend the majority of their time camping in the field. Participants earn a monetary service award. Glacier Youth Corps is a partnership of the Glacier National Park Conservancy, Montana Conservation Corps, the National Park Foundation, and the National Park Service. Watch a video on the Corps goals and founding. Visit the Montana Conservation Corps website to apply to become an expedition member of the Glacier Youth Corps.
Montana Conservation Corps
Ages 15 years old to recent college grad
Serve on crews doing a variety of projects on public lands throughout the state, including Glacier. Crew members may call a tent their home in some truly wild places. Learn program objectives of communication and team skills, leadership development, environmental stewardship, technical field skills, and embracing a strong service ethic through challenging physical work in the great outdoors.
Youth Conservation Corps
Ages 15-18
Join the team and get paid to have fun in the national parks! This 45-year old organization puts young people to work in parks nationwide during 8-10 week summer sessions. Some require overnight stays while others are purely day excursions.
Student Conservation Association (SCA)
Students, ages 15-19 on Community, Regional, or National Crews
SCA has a long history of connecting high school students with conservation projects and teams, whether you want to work across the country or close to home. They also have Adult Programs for anyone over 18 with a high school diploma or GED. Even if you aren't interested in membership, you can check out SCA's suggestions for 6 outdoor life lessons every teen should learn.