Wolves Trunk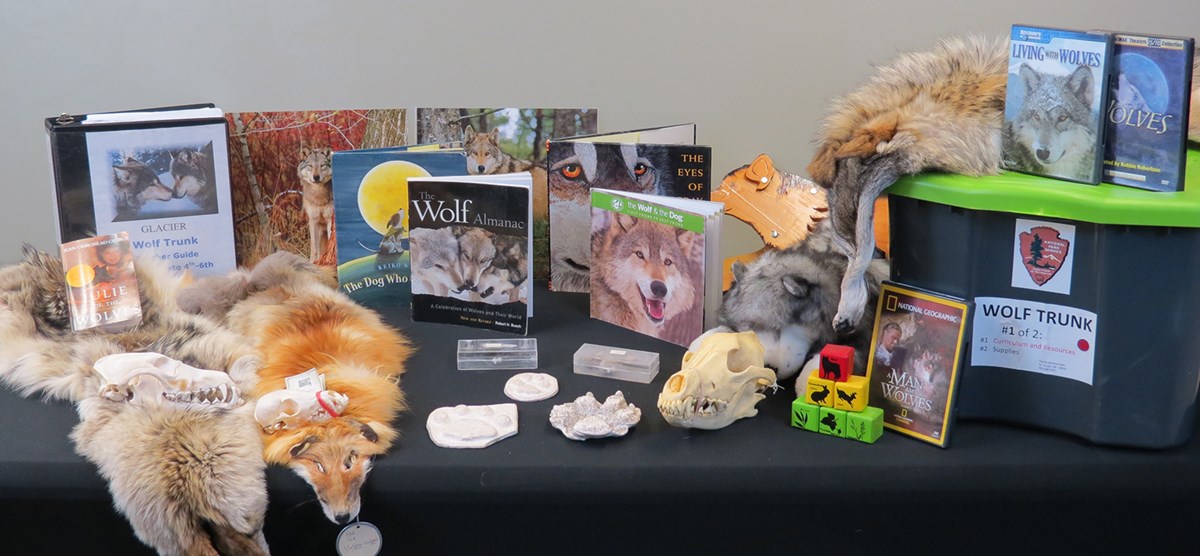 This trunk is great for learning about predator/prey relationships, food chains, and misconceptions about wolves. This trunk includes the pelts, skulls, and track samples of wolves and their prey. Tapes of wolf howls, videos, DVDs, and track casts. Three different teacher guides based on grade level are also provided.
Grades
K-3, 4-6, 7-12
Contents
Wow! With all the discussion going on about wolves, this trunk is a great way to help your students learn about these predators and why they are so controversial. There are lessons in the trunk for every grade level.
Lesson Plans
The wolf trunk contains teacher guides for grades K-3, 4-6, and 7-12. Lessons and activities focus on learning about predator/prey relationships, food chains, and misconceptions about wolves.
Books
The Dog Who Cried Wolf. Kasza, K. 2005. (ISBN: 0399242473)
Endangered Wolves. Kalman, B. 2005. (ISBN: 0778719006)
The Eyes of the Gray Wolf. London, J. 1993. 081180285X)
Julie of the Wolves. Craighead George, J. 1972. (IABN: 0060540958)
Places for Wolves: A Blueprint for Restoration and Recovery in the Lower 48 States. Defenders of Wildlife.
Return of the Wolf. Grooms, S. 2005. (ISBN: 9077256083)
The True Story of the 3 Little Pigs. Scieszka, J. 1996. (ISBN: 0140544518)
The Wolf Almanac. Busch, R. 2007. (ISBN: 9781599210698)
The Wolf and the Dog. Defenders of Wildlife.
The Wolf's Chicken Stew. Kasza, K. 1987. (ISBN: 0399214003)
Wolves: Complete Cross-Curricular Theme Unit that Teaches about these Totally Cool Canines. Kranking, K. and Donald, R. 2002. (ISBN: 0439241189)
Audio/Visual
A Man Among Wolves. National Geographic. 2007. Video DVD. (ISBN: 1426291078)
Sounds of the Earth: Wolves. Oracle Music. 1997.
Wolf: Beyond the Fairy Tale. VHS Video.
Wolves. Magic Play Entertainment. Video DVD. 1999.
Other Resources
Animal Track Molds: wolf, mountain lion, elk, coyote
Animal Scat: wolf, coyote, dog, elk
Animal Skulls: wolf, coyote, fox, elk
Pelts: wolf, coyote, fox
Puppets: Fuzzy wolf puppet, wooden wolf puppet
Food pyramid blocks
Wolf pictures and posters
Jewels of Glacier poster and key
"A map without boundaries" poster
Borrowing Instructions
All of Glacier's traveling trunks are free of charge and can be borrowed for 2-4 weeks at a time, but must be picked-up and dropped-off in person. (Sorry, it is not possible to mail the trunks.) To arrange to borrow a trunk please submit a reservation form found on the main Traveling Trunks page.
Last updated: November 6, 2017