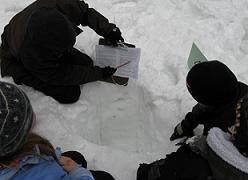 Students that have spent time preparing for their visit to Glacier National Park get more out of a field trip to the park. Activities post-visit also help to reinforce information learned during the trip. This packet, Preparing for your 3rd-5th Grade Winter Field Trip contains everything you need to get ready for your field trip.
Additional Resources
Dressing for Winter (pp. 16-20)
Surviving Winter in the Wild (pp. 23-28)
Winter Vocabulary (pp. 73-75)
Winter Ecology Teacher's Guide (pdf) - this is a large file and may take time to download
Stations worksheet (pdf) - the activities on this worksheet may vary slightly on your field trip day depending on snow conditions.