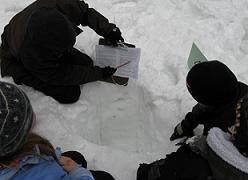 Students that have spent time preparing for their visit to Glacier National Park get more out of a field trip to the park. Activities post-visit also help to reinforce information learned during the trip. This packet, Preparing for your 3rd-5th Grade Winter Field Trip contains everything you need to get ready for your field trip.

These SmartBoard Lessons are a great tool to supplement your preparations.
Additional Resources
Dressing for Winter (pp. 16-20)
Surviving Winter in the Wild (pp. 23-28)
Winter Vocabulary (pp. 73-75)
Winter Ecology Teacher's Guide (pdf) - this is a large file and may take time to download
Stations worksheet (pdf) - the activities on this worksheet may vary slightly on your field trip day depending on snow conditions.

Check out this short "Wild Kratts" video to discover some of the adaptations animals have to resist winter.