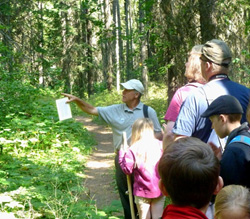 Glacier will ONLY be considering local teachers for our 2017 Teacher-to-Ranger-to-Teacher (TRT) program.
Duties
Currently, we are looking at summer projects with our Native Plant Restoration Program and our Interpretation & Education Programs that might be suitable for a TRT.
Knowledge and Skills
Required
Proficiency in public speaking and personal communication.
Knowledge of natural sciences, geology, history, or related fields.
Ability to stand for long periods of time.
Knowledge and experience using computers and related software.
Positive and professional approach to the position.
Valid driver's license, personal transportation to and from work.
Current first aid and CPR/AED Certification.
Desired
Experience teaching biology, geology, natural science, history, education, or related fields.
Experience working with secondary school students.
Overview
Season: ~10 weeks; early-June to mid-August (dates may be flexible).
Work Schedule: 32 hours per week (4 days at 8 hours); may include holidays and weekends.
Housing: NOT provided.
Wage: $3,000 upon completion of program and graduate course requirements.
Graduate Credit: 3 credit hours through University of Colorado Denver.
Uniform: Required and provided by the park.
Transportation: Provided for job-related duties; personal transportation needed to reach duty station.
If interested email us. You can look for TRT opportunities nationwide on the National Park Service Teacher Ranger Teacher Program website.