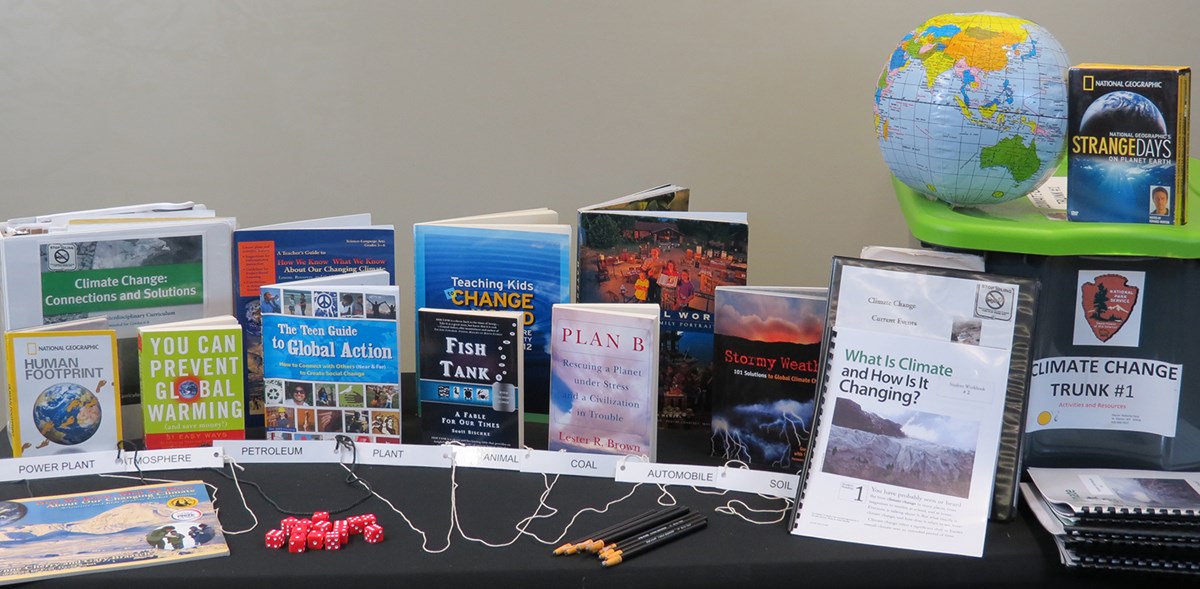 You have probably seen or heard the term climate change in many places,from magazines to movies, at school, and at home. Everyone is talking about it. But what exactly is climate change, and how does it relate to our lives?
Facing the Future curriculum
Climate Change Trunk for Middle School Students. Based on curriculum from Facing the Future, a non-partisan group committed to providing teachers with resources to teach global issues and sustainability, this trunk contains 2 weeks of lessons to help students understand climate change and global warming. We have supplemented the unit with videos, CDs and local materials.
Grades
5-9
Contents
This trunk contains lessons for a two week unit to help students understand our changing climate. The curriculum, from Facing the Future, is supplemented with videos, CDs, and local materials. We have laminated the student pages and made class sets of the reading materials. Everything is ready for you to start sharing the lessons!
Lesson Plans
This curriculum is aligned with national standards for science and social studies but could easily incorporate other subject areas. The two week unit includes nine lessons, offering an introduction to climate change and the forces behind the change as well as exploration of other social, economic, and environmental factors. Browse all of the lessons in the Climate Change: Connections and Solutions curriculum.
Books
How We Know What We Know About Our Changing Climate: Scientists and Kids Explore Global Warming. Cherry, P. and Braasch, G. 2008. (ISBN: 9781584691303)
A Teachers Guide to How We Know What We Know About Climate Change. Malnor, C. 2008. (ISBN: 9781584691051)
The Teen Guide to Global Action: How to Connect with Others to Create Social Change.Lewis, B.2008. (ISBN: 1575422662)
Material World: A Global Family Portrait. Menzel, P. 1994. (ISBN: 0871564300)
You Can Prevent Global Warming (and save money!). Langholz, J. and Turner, K. 2008. (ISBN: 0740777165
Videos
National Geographic's Human Footprint. 2008. Video DVD. (ISBN: 9871426293146)
National Geographic's Strange Days on Planet Earth. 2005. Video DVD. (ISBN: 0792292596)