Field Trips
Winter Ecology Field Trip (grades 6-12)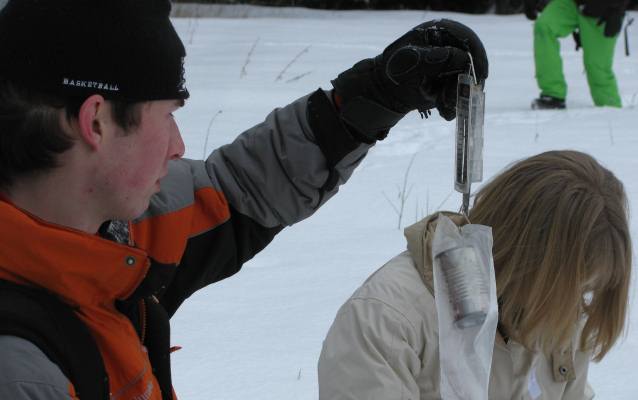 Description
Students will snowshoe the Three Bears Loop at Marias Pass or an extended off-trail route from the Oxbow Trail. Throughout the day, they will use a worksheet to collect and record data for wildlife/insect signs, snow density and snow crystal shapes, and record weather observation readings. Winter ecology programs on both west and east sides of the park include snowshoe hikes. The park provides all the snowshoes for students and chaperones free of charge. View our Winter Ecology Field Trip Schedule to see a basic outline for the day.
Glacier National Park protects habitat and natural processes with little human disturbance. In winter, this habitat changes drastically and winter ecologists can study the inter-relationships and adaptations of organisms which allow them to cope with these factors in order to survive.
Skills: Observe, communicate, identify, classify, collect & analyze data
Duration: 5 hours
Group Size: 30 students total, 2 groups of 15 students.
Locations: Marias Pass or off trail in Apgar
Objectives (depending on grade level and weather conditions):
Students will be able to:
Tell what national parks protect, one reason Glacier National Park was established, and name another national park in the United States.
Assemble a puzzle-map of the Crown of the Continent Ecosystem and explain why it is important that neighbors work together toward shared goals.
Record temperatures of: the air; the top, middle and bottom of a snow pit; and compare/contrast them.
Recognize track patterns and record wildlife signs/sightings.
Match winter twig samples and identify them using a dichotomous key.
Map or sketch the dominant vegetation types along the trail.
Use a topographic map to locate Marias Pass, East Glacier, the Blackfeet Reservation, Lewis and Clark National Forest, Glacier National Park, and Three Bears Lake.
Explain why there are two earthen dams on the edges of Three Bears Lake.
Tell what a snow survey course is and its significance to people living in the watersheds originating in Glacier National Park.
Name the 5 factors that make winter difficult for living organisms to survive (SCREW factors) and give 2 examples of organisms' adaptations to cope with some of these factors.
Dig a snow pit and collect snow cores from the top, middle, and bottom layers, calculate the snow water equivalent for each sample, and analyze the results.
Closely observe snowflake shapes and use a classification system to document the dominant type of shape present in the snow pack surface layer.
Use the words subnivean and supranivean environments and describe where they are found and an animal that lives in each.
Name the snow structure that has been used by different cultures as a temporary shelter (quinzhee), describe how to build it, and explain why it is warmer inside than outside one.
Field Trip Logistics:Teachers wishing to have their students participate in the winter ecology field trip should plan to arrive in the park between 9:30 - 11 a.m. and stay until 1:30 or 2 p.m. For programs at Marias Pass, there are no bathrooms open in winter, so groups must make arrangements for bathroom breaks before and after the trip. Everyone in the group must be prepared to be outside the entire time and ready to snowshoe for a distance of about 2 miles on gently rolling terrain.
Reserve a Field Trip now and check out the Chaperone Guidelines and our Tips for a Successful Day in Glacier!
These pre- and post-visit lessons provide activities and materials to prepare students for their Glacier field trip!
Contact
Glacier's Education Specialist
406-888-5837
Details
Subject:

Biology: Animals, Biology: Plants, Ecology, Mathematics, Science and Technology, Wildlife Biology

National/State Standards:

MT Content and Performance Standards
Science Standard 1: design scientific investigations...
Science Standard 2: demonstrate knowledge of physical and chemical systems...
Science Standard 3: knowledge of how living organisms interact with each other...

type:

Field Trips