Field Trips
Sensory Exploration Field Trip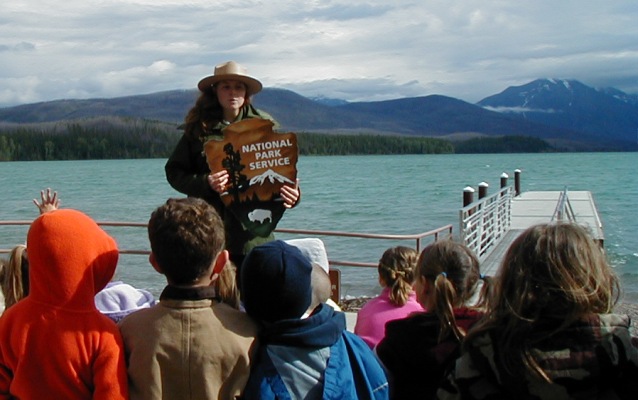 Description
**This is a ½ day ranger-led program with the option to spend the rest of the day doing independent class activities.** Students will participate in ranger-led activities that focus on using our senses. Students will be at Apgar Nature Center in Apgar or the 1913 Ranger Station in St. Mary, depending on field trip location. They will also do ranger-led activities in the forest next to the cabin/ranger station and take a short walk to explore Glacier using their senses. View our Sensory Exploration Field Trip Schedule to see a basic outline for the day.
Glacier National Park protects living and non-living things with little human interference. People, animals, and insects are all living things that use their senses to help them to live here in Glacier National Park.
Grade Level:  Kindergarten
Skills: Observe (using senses), compare & contrast, match, count, communicate findings
Duration: 3 hours
Group Size: 40 students total, 2 groups of 20 students
Locations: Apgar Village and St. Mary
Available Dates: Fall and Spring
Vocabulary: See the bolded words in the objectives below.
Objectives: (These are some of the objectives that can be achieved on an Sensory Exploration program. Many others are possible depending on teacher's focus and the ranger.)
Students will be able to:
Tell what all national parks protect and one living and non-living thing protected in Glacier.
Name one wild animal and one type of pet and tell the difference between wild animals and pets.
List our 5 senses and identify the body organ associated with each sense.
Use all 5 senses to explore the outdoors and make observations as a "Nature Spy."
Give an example of how an animal or insect in Glacier uses its senses to survive.
Give an example of how people use their senses to live.
Differentiate between living and non-living things in Glacier and their needs for air, food, etc…
Define objects by simple attributes. Sort, count, label, and describe various natural objects.
Sit quietly to observe and count natural sounds in the forest.
Match pictures of insects and animal "babies" to the correct pictures of their full grown "parents."
Use their sense of smell to find their "mother" or "siblings" who have the same scent.
Name (and possibly see!) several animals that are found in the forest and describe why they choose this area as their home.
Field Trip Logistics: Teachers wishing to have their students participate in the sensory field trip must have their classes divided into groups of no more than 20 students.
Contact
Glacier's Education Specialist
406-888-5837
Details
Subject:

Biodiversity, Biology: Animals, Biology: Plants, Ecology, Science and Technology, Wildlife Biology

National/State Standards:

Montana Content and Performance Standards:
Science Standard 1: Design scientific investigations...
Science Standard 2: Demonstrate knowledge of physical and chemical systems...
Science Standard 3: Demonstrate knowledge of living things...

type:

Field Trips