Field Trips
Fire Ecology Field Trip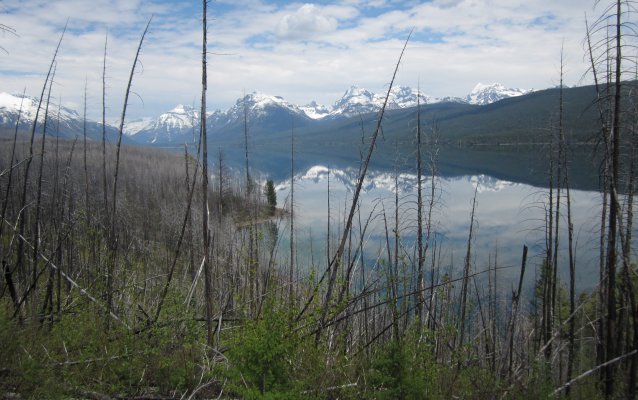 Description
Students participate in an introduction at Apgar and then travel to a 2 mile long (round-trip) trail to hike with a ranger. There will be stops at various points along the trail to do activities or discuss something that they see in the forest. View our Fire Ecology Field Trip Schedule to see a basic outline for the day.
How to Dress for the Fire Ecology Field Trip (permission slip courtesy of J. Summerscales, Columbia Falls Jr. High)
Grade Levels: 4th-5th
Skills: Communicate, Observe, Identify, Model
Duration: 4.5 hours
Group Size: 60 students, 2 groups of 30 students
Locations: Fish Creek Area and St. Mary
Available Dates: Fall and Spring
Vocabulary: See the bolded words in the objectives below.
Objectives: (These are examples of some of the objectives that can be achieved on a fire walk. Many others are possible depending on the teacher's focus and the ranger.)
Students will be able to:
Tell what national parks protect and one reason Glacier National Park was established.

Identify coniferous trees with a dichotomous key.

Give 3 examples of interrelationships in the forest.

Give one example each of an effect on plants and on wildlife from a forest fire.

Point to an area that has had a disturbance other than fire.

Model how trees transfer food and water throughout their structures, and how they are adapted for protection from fire.

Tell how a fire might increase plant reproduction.

List the three parts of the fire triangle (fuel, oxygen, and heat) and how each contributes to a fire.

Give examples of adaptations that plants and animals have to fire.

Explain how we can understand past fires by examining tree cookies and fire scars.

Discuss how fires are all different and act in varying ways depending on environmental factors like wind, fuel, terrain, and make a prediction about how a fire with certain conditions might burn.

Discuss 2 organisms who not only can survive fire, but who actually thrive after a fire.

Explain how Native Americans used fire, and name one important role fire plays in a natural system.
Field Trip Logistics:Teachers wishing to have their students participate in the fire ecology field trip should plan to arrive in the park by 9:30 - 10 a.m. and stay until 1:30 - 2 p.m. Everyone must be prepared to be outside all day and ready to hike 2 miles on fairly level terrain.
Reservations:
Request a field trip with this on-line reservation form. Make sure to read through our Guidelines for your Trip to be well-equiped to have an enjoyable experience.
These pre- and post-visit activities provide activities and materials to prepare students for their Glacier field trip!
Contact
Glacier's Education Specialist
406-888-5837
Details
Subject:

Biodiversity, Biology: Animals, Biology: Plants, Ecology, Fire Ecology, Fire Safety, Science and Technology

National/State Standards:

MT Content and Performance Standards:
Science Standard 1: …design scientific investigations…
Science Standard 3: …demonstrate knowledge of how organisms interact with each other…
Science Standard 4: …demonstrate knowledge of earth's systems...

type:

Field Trips