Field Trips
Earth Science Field Trip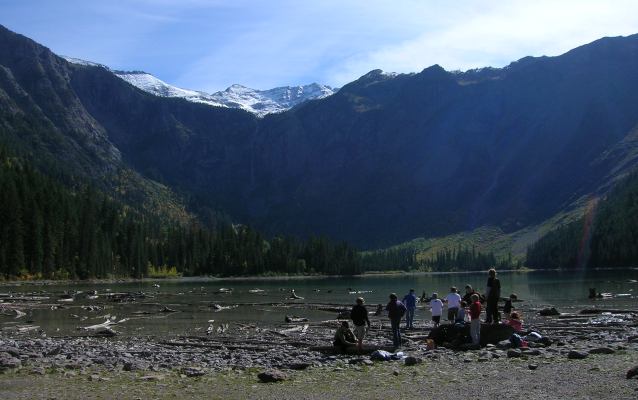 Description
Students will hike with a ranger, participating in activities that highlight landform building, glaciation, rocks and minerals, erosion and soil formation. View our Earth Science Field Trip Schedule to see a basic outline for the day.
The scenery in Glacier National Park provides evidence of a range of geologic processes that have shaped the landscape. Rangers lead students on a 4+ mile hike and explore sedimentation, mountain building, glaciation, rocks and minerals, erosion, weathering, and soil formation. The length of these hikes and level of information is geared toward secondary age students and is a challenge to fit into a regular school day schedule. The ability to have an extended field day is recommended for this program.
How to Dress for the Avalanche Field Trip (Sample permission slip from a Columbia Falls Junior High School teacher. Regardless where in the park you are doing this program, this is a good example of what to tell students to bring to be prepared.)
Grade Levels: 5th-9th
Skills: Observe, communicate, identify, classify
Duration: 5 hours
Group Size: 60 students total, 2 groups of 30 students.
Locations: Avalanche Lake, St. Mary, and Many Glacier
Available Dates: Fall and Spring
Vocabulary: See the bolded words in the objectives below.
Objectives: (These are examples of some of the objectives that can be achieved on an earth science program. Many others are possible depending on the teacher's focus and the ranger.)
Students will be able to:
Tell what national parks protect and one reason Glacier National Park was established.
Find examples of glaciation in Glacier National Park.
Find examples of erosion in Glacier National Park.
Model how many of the lakes in Glacier National Park were formed.
Write a "recipe" for soil.
Explain why some geologists say that "everything depends on rocks."
Name three main groups that rocks are classified into and explain how each is formed.
Tell how the rock cycle works.
Give an example of how water can affect landform building and destruction.
Explain the difference between weathering and erosion.
Explain the 4 main geologic events that shaped the landscape at Glacier today.
Name one kind of evidence we have that Native Americans have been using this area (Glacier National Park) for thousands of years.
Field Trip Logistics: Teachers wishing to have their students participate in the earth sciences field trip should plan to arrive in the park by 9:30 a.m. and stay until 2 p.m. Allowing adequate time (5 hours) inside the park will result in a less-rushed, more enjoyable experience. Everyone in the group must be prepared to be outside all day and ready to hike a trail that gains 500 ft of elevation over 2 miles (one way, for a total of 4 miles round-trip).
Example for a bus of 60 students, divided into 2 groups of 30 students each:
Each group will be assigned a ranger for the day and both groups will cover the same activities but at slightly different times or places along the trail.
Reservations:
Request a field trip with this on-line reservation form. Make sure to read through our Guidelines for your Trip to be well-equiped to have an enjoyable experience.
These pre- and post-visit activities provide lessons and materials to prepare students for their Glacier field trip!
Contact
Glacier's Education Specialist
406-888-5837
Details
Subject:

Climate Change, Earth Science, Environment, Geography, Geology, Glaciers, Science and Technology

National/State Standards:

MT Content and Performance Standards:
Science Standard 1: …design scientific investigations…
Science Standard 3: …demonstrate knowledge of how organisms interact with each other…
Science Standard 4: …demonstrate knowledge of earth's systems...

type:

Field Trips