The Glacier Institute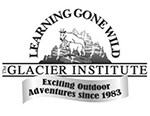 Glacier Institute
137 Main Street
P.O. Box 1887
Kalispell, MT 59903
www.glacierinstitute.org
register@glacierinstitute.org
406-755-1211
The Institute provides field-based learning experiences to the public and serves as an official park partner specializing in field seminars. The Glacier Park Field Camp located inside the west entrance to Glacier National Park hosts adult education courses. Glacier Institute youth programs take place at Big Creek Outdoor Education Center located in Flathead National Forest. Study birds of prey, wildflowers, painting, or photography! Courses vary in length; you may spend one day or a whole week getting in-depth knowledge of a topic or skill.
Glacier Institute does not conduct fundraising for National Park Service projects, but will occasionally solicit funds for building maintenance and enhancements of the Field Camp site within the park. Glacier Institute's income sources include tuition, donations, memberships, and grants.


Big Creek Discovery School
Discovery School offers outdoor education program designed for grades K-12. Teachers and educators may choose field trips ranging from one up to three days at the Big Creek Outdoor Education Center. Curriculum-based studies in aquatic ecology, fire ecology, forestry and other outdoor subjects in the Flathead National Forest and Glacier National Park meet Montana state standards for math and science. Take the classroom outside!
Last updated: July 16, 2019