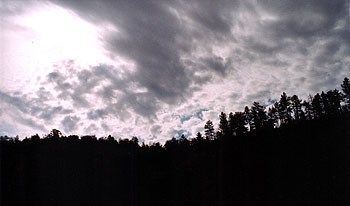 July and August are the rainy months, with the possibility of short but intense rain each day. Monthly rainfall can vary from almost three inches in August to a third of an inch in May, the driest month. Precipitation in winter ranges from about half an inch per month to an inch and a half. Humidity is normally quite low. Fog occurs in the mornings occasionally during summer. Small hail has occurred in the summer in conjunction with thunderstorms, but this is infrequent. Winters normally receive a few inches of snow.
Average monthly rainfall estimates in inches are:
Jan. - .71, Feb. - .68, Mar. - .65,
Apr. - .47, May - .33, Jun. - .58,
Jul. - 2.81, Aug. - 2.83, Sep. - 1.88,
Oct. - 1.59, Nov. - .50, Dec. - 1.44.
During the summer, daytime highs average in the 90s (F) while nighttime lows can reach into the 50s (F). During the winter, daytime highs can be in the 50s (F), while nighttime lows can reach into the teens. It could snow as early as October and as late as April. It could freeze even in June in areas of the highest altitudes.