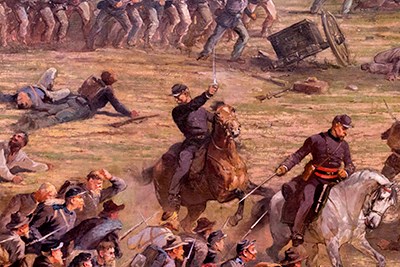 In the late 1880s, French artist Paul Philippoteaux took brush to canvas and created the Battle of Gettysburg Cyclorama painting. He spent months on the battlefield researching the battle with veterans, a battlefield guide and a photographer. It took Philippoteaux and a team of assistants more than a year to complete the painting.The result is a breathtaking canvas that measures 377 feet in circumference and 42 feet high. Longer than a football field and as tall as a four-story structure, the Gettysburg Cyclorama oil painting, along with light and sound effects, immerses visitors in the fury of Pickett's Charge during the third day of the Battle of Gettysburg.
Today the Gettysburg Cyclorama is displayed the way Paul Philippoteaux originally intended with an overhead canopy and a three-dimensional diorama foreground that realistically features stone walls, broken fences, shattered trees and a cannon.

Want to see the Cyclorama Painting for yourself? Visit the Gettysburg Foundation website to purchase tickets.