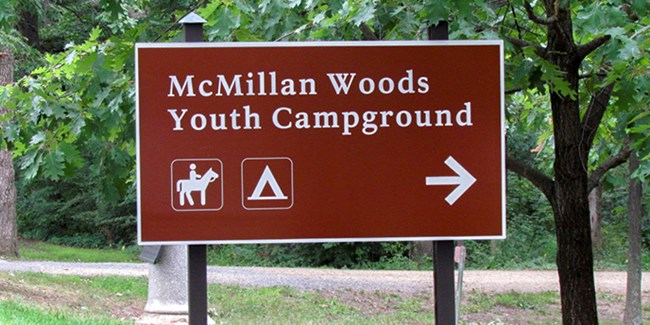 For scouting and organized youth groups that visit Gettysburg National Military Park, we offer McMillan Woods Youth Campground, located in the park on West Confederate Avenue. The campground is open from early April through the end of October every year. Any organized youth group with adequate adult supervision (minimum of one adult for every 10 youths) is welcome to use the camping area. Camping here is by reservation only and camp sites are reserved on a first come, first served basis. Adults who accompany every group must be supervisors such as troop scoutmasters or youth counselors; family members are not permitted to camp with their child's organization.
To make a reservation, please visit our reservations page on Recreation.gov.
Note: There is a $9.00 reservation fee that is charged by Recreation.gov.

Camping is by reservation only; walk-ins not permitted.
Campground open for Scout groups and civic youth organization groups only. Family and individual camping is not available at this facility. Find private campgrounds for family and individual camping in Gettysburg by visiting Destination Gettysburg or reserve camping at Catoctin Mountain Park, Maryland, approximately 24 miles (38 km) from Gettysburg.
Campers/recreational vehicles/buses are not permitted. All vehicles must remain in the parking area, not in the campsites.
Generators are not permitted.
Coal or charcoal cooking is not permitted. Propane and white gas only.
Pets are not permitted.
Alcoholic beverages are not permitted.
Campsites are free. Reservation service fees of $9.00 for a web reservation or $10.00 for a call center reservation apply.
Firewood is not provided by the park. Do not bring firewood from out-of-the-area. Please purchase your firewood in the town of Gettysburg before arriving at the campground. Firewood is available at Kennie's Market on Middle Street or Walmart on York Street.
Don't Move Firewood: Help protect our forests! Prevent the spread of tree-killing pests by obtaining firewood at or near your destination and burning it on-site. Moving firewood is illegal in some states. Visit dontmovefirewood.org to learn more.
The 2018 Camping Season runs from April 7 to October 29, 2018. McMillan Woods Campground will be closed from October 30, 2018 until April 5, 2019.