McMillan Woods Youth Campground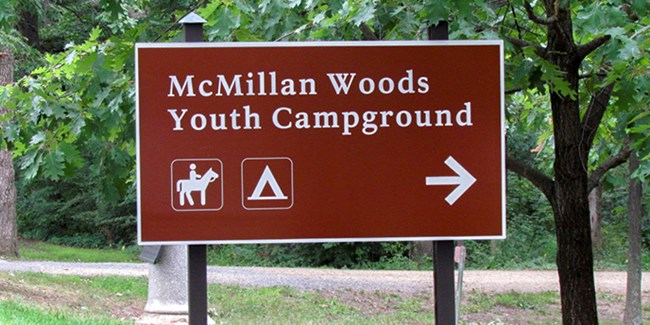 For scouting and organized youth groups that visit Gettysburg National Military Park, we offer McMillan Woods Youth Campground, located in the park on West Confederate Avenue. The campground is open from April 1 through October 31 every year. Any organized youth group with adequate adult supervision (minimum of one adult for every 10 youths) is welcome to use the camping area. Camping is by reservation only and camp sites are reserved on a first come, first served basis. Adults who accompany every group must be supervisors such as troop scoutmasters or youth counselors; family members are not permitted to camp with their child's organization.
To make a reservation, please visit our reservations page on Recreation.gov.
Note: There is a $9.00 reservation fee that is charged by Recreation.gov.

Camping is by reservation only; walk-ins are not permitted.
Campground open for Scout groups and civic youth organization groups only. Family and individual camping is not available at this facility. Find private campgrounds for family and individual camping in Gettysburg by visiting Destination Gettysburg or reserve camping at Catoctin Mountain Park, Maryland, approximately 24 miles (38 km) from Gettysburg.
Campers/recreational vehicles/buses are not permitted. All vehicles must remain in the parking area, not in the campsites.
Generators are not permitted.
Coal or charcoal cooking is not permitted. Propane and white gas only.
Pets are not permitted.
Alcoholic beverages are not permitted.
Campsites are free. Reservation service fees of $9.00 for a web reservation or $10.00 for a call center reservation apply.
Firewood is not provided by the park. Do not bring firewood from out-of-the-area. Please purchase your firewood in the town of Gettysburg before arriving at the campground. Firewood is available at Kennie's Market on Middle Street or Walmart on York Street.
Don't Move Firewood: Help protect our forests! Prevent the spread of tree-killing pests by obtaining firewood at or near your destination and burning it on-site. Moving firewood is illegal in some states. Visit dontmovefirewood.org to learn more.
The Camping Season runs from April 1 to October 31, 2020. McMillan Woods Campground will be closed from November 1 until March 31 every year.
Facilities
Provided are nine portable toilets and one handicapped unit, two potable water faucets, and a trash receptacle. There are ten camp sites, each with a picnic table and fire ring. Tents and dining canopies are the only shelters permitted. Campers or recreational vehicles are not permitted. Vehicles must remain in the parking lot only at all times! Camp stoves using propane or white gas are permitted. All wood fires must be contained within the fire ring. The park does not provide firewood. Trenching around tents is not allowed. Water provided is for drinking only. There are no shower facilities at the campground.
Quiet Hours
10 pm to 6 am. There are no outside lighted areas. No walking/hiking on the Battlefield during the quiet hours.
Check In/Check Out Procedures: A copy of all site assignments will be posted on the bulletin board at the campground. You do not need to check in with a ranger. Locate your site and make camp. Arrival and earliest set-up time is 11 am and the site must be cleared by noon on the day of departure. Please keep your camping permit in your possession at the campground.
Directions
McMillan Woods Youth campground is located in the park on West Confederate Avenue, which is accessible from West Middle Street (Rt. 116) in Gettysburg. West Confederate Avenue is a two-way road as far as the campground, but changes to one-way beyond (south of) it.

From the PA Turnpike and points north of Gettysburg
Take U.S. Route 15 South to Route 30 West into Gettysburg. At Lincoln Square (which is a traffic circle) go ¾ of the way around the circle and exit south on Route 97, Baltimore Street, to the first stop light, which is Middle Street. Turn right and drive west to the fourth stop light at West Confederate Avenue. Turn left. The campground entrance is .6 mile on your right.

From points south of Gettysburg
Take U.S. Route 15 North to the Business Route 15 exit, Steinwehr Avenue. Turn left onto Business Route 15 North to Washington Street in Gettysburg, the first stop light you will encounter. Turn left onto South Washington Street. At the next traffic light, West Middle Street, turn left and drive west to the third traffic light at West Confederate Avenue. Turn left. The campground is .6 mile on your right.

If you know how to use GPS: Using a Garmin Nuvi at the campground, the coordinates for the campground parking area read:
N3949.310'
W07714.980'

If you use these coordinates in your GPS unit, they will direct you to the campground parking lot via West Confederate Avenue. If you still have questions regarding directions, call the park at (717) 334-1124.
Scout Trails Information
The "Boy Scouts of America Gettysburg Heritage Trail Guide" is available in the park Museum and Visitor Center bookstore and from the New Birth of Freedom Boy Scout Council web site.
Security Notice
In planning your visit to Gettysburg National Military Park, please keep in mind that the park Museum and Visitor Center is a privately owned facility, operated by the Gettysburg Foundation. For reasons of security, backpacks, day packs, large handbags, packages or other medium to large sized containers are prohibited in this building and cannot be left unattended outside of it. All persons entering are subject to search. Please lock your valuables in the trunk of your vehicle and out of sight while in the park and while camping at McMillan Woods Youth Campground.
Notice of Bans on Outdoor Fires
When, in the case of extremely dry conditions, there is a ban on outdoor fires in effect for Adams County, it will be announced on the Pennsylvania Department of Conservation and Natural Resources web page with a notice from the park on this page. The PDCNR provides notices of burn bans and severe conditions throughout the state.


Last updated: November 21, 2022