Summer 2018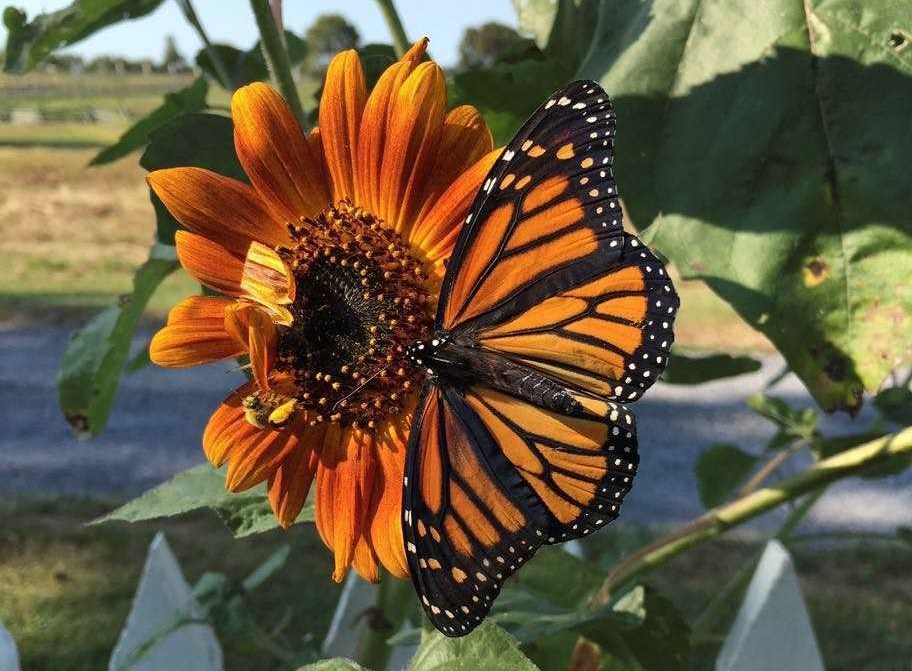 Philanthropic Partnership Agreement
In February, the park prepared a draft Philanthropic Partnership agreement for the Gettysburg Foundation for comment. The new agreement is mandated by NPS Directors Order 21, Donations and Philanthropic Partnerships. Once we receive feedback from the Foundation, the document will be extensively reviewed by the NPS regional and Washington offices.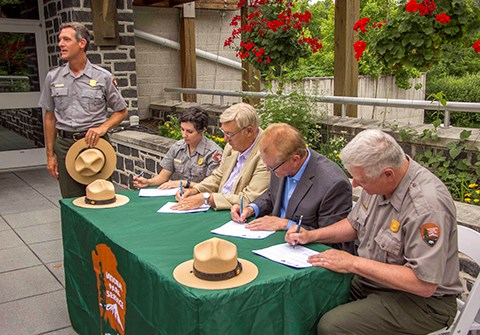 Operation Butterfly Wings
On June 20 the Gettysburg Foundation, the Dwight David Eisenhower Society and the National Park Service held an event where they signed a pollinator resolution to support Operation Butterfly Wings, a large landscape conservation project. Operation Butterfly Wings is about the protection of the world's precious pollinators using the monarch butterfly as a flagship species. We are very pleased that the Gettysburg Foundation and the Dwight David Eisenhower Society are co-sponsors of the pollinator resolution. More than 25 community organizations had also signed pollinator pledges by the event date, which was during National Pollinator Week.
Little Round Top
In May, park and foundation staff met with DHM Design, a firm doing value engineering for the Little Round Top project. The project's goals are to enhance traffic flows and pedestrian safety, limit landscape degradation, improve visitor experiences, and provide limited, additional parking. The estimated cost is $9.8 million, with the Gettysburg Foundation committed to providing up to $5 million in matching funds and federal funding for the rest. The projected timeline is to present a final alternative and drawings to the National Development Advisory Board (DAB) in November 2018. The project will go to federal contracting in July 2019, provided it is 1) approved by DAB; 2) has a signed Finding of No Significant Impact; and 3) all funding is secured. Construction could begin in fall of 2019.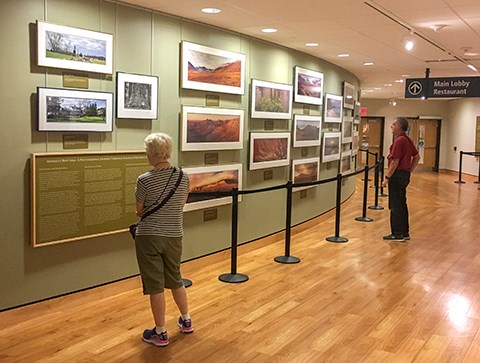 New exhibits at the Museum and Visitor Center
The "America's Best Idea" photo exhibit opened in June, featuring photos of national parks by Stan Jorstad. Other recent additions include the "War Log"; artifacts highlighting States Days; an original copy of the Emancipation Proclamation; and a spotlight exhibit, "Eisenhower's Leadership from Camp Colt to D-Day."
New and Expanded Interpretive Programming
The park has dramatically expanded family programming, offering new walks, talks, and hikes aimed at engaging younger visitors and their families. Partnering with the Lincoln Fellowship of Pennsylvania and Taps for Veterans, the Soldiers' National Cemetery will again host 100 Nights of Taps every evening from Memorial Day to Labor Day. Additionally, a new series of field programs titled, The Face of Battle, will examine the battle's impact on ordinary individuals who experienced combat at Gettysburg, putting a human face to the events of 1863.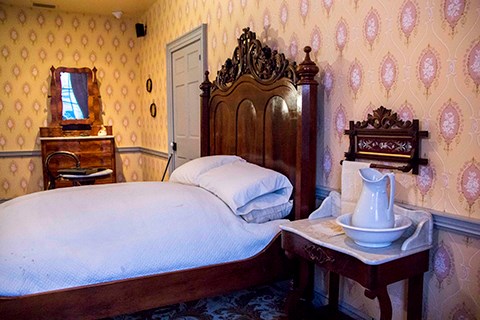 David Wills House
From June 9 to August 12, David Wills House admission is free, with added staffing and daily Ranger programs. The goal is to increase visitation – making David Wills House a part of every visit to Gettysburg and provide greater opportunities to reflect on the meaning of Gettysburg and the legacy of the American Civil War. To date, visitation has risen dramatically.
Great Task Youth Leadership Initiative
Throughout the summer and fall the park's education team will be expanding its popular Great Task Youth Leadership Initiative. Since 2016 this program has brought many hundreds of diverse learners from low income and Title 1 schools to the park for an intensive overnight experience focused on using history to foster civic engagement and to build leadership skills. We thank the Gettysburg Foundation for their continuing support for this project.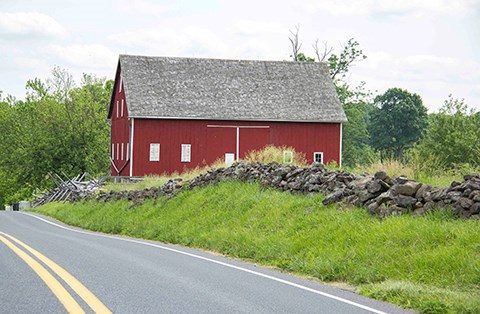 Rebuilding Historic Stone Walls
This summer, we are rebuilding stone walls on the battlefield in three areas: along Emmitsburg Road south of the Peach orchard; along the Slyder Farm lane; and along Taneytown Road. An 8-person work crew from the American Conservation Experience (ACE) program will do the work under park supervision. The ACE program helps eliminate backlogs and engages young adults in conservation experiences with the NPS.
Maintenance projects
Our biggest projects this summer include: monument repairs with financial help from the Gettysburg Foundation and Gettysburg Battlefield Protection Association; and repointing of 25 percent of the National Cemetery stone wall and removing the "Incralac" coating on the High Water Mark monument with the NPS Historic Preservation Training Center. The structures preservation branch is repairing roofs on the Leister barn as well as bank barns at Eisenhower Farm 1, Farm 3 and Redding. We are also repairing the Groft/Spangler barn. With the NPS Historic Preservation Training Center we are continuing with major structural and exterior repairs at the Josiah Benner barn. The landscape preservation branch is replacing pasture fences around the Patterson farm, replacing woven wire fences at Eisenhower, and repairing most of the historic bridges at GETT.
GETT Museum Program
The week of June 18, an NPS team was here to help GETT update our Collections Management Plan, which includes options for the disposition of the Civil War Museum of Philadelphia collection.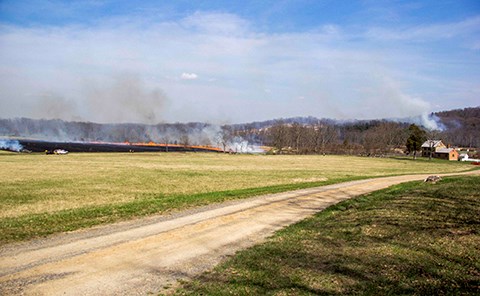 Prescribed Fire
On April 14, we conducted a prescribed fire on approximately 100 acres between Devils Den and South Confederate Avenue. The weather was a challenge this time but all operations were conducted safely. We are grateful to six other national parks and Michaux State Forest who sent staff to assist.
New Commercial Use Authorization (CUA) Permit Fees Coming in 2019
New fees for CUA permits will be implemented in October 2019. This is part of a new NPS policy applicable at all national park sites. New fees include a market price fee based on a percentage of gross receipts earned from in-park or park-dependent operations. Motor coaches will pay a fee of $5
per passenger.
Minor Boundary Revision
We will soon publish the legal notice for the GETT minor boundary revision. After that, if there are no adverse public comments, the package will go to the NPS Washington office for presentation/review by Congressional committees. The boundary revision includes six parcels owned by the American Battlefield Trust and the Gettysburg Foundation, including Lee's Headquarters and a site adjacent to McAllister's Mill, a National Underground Railroad Network to Freedom site.
Comprehensive Community Trails Plan & Powers Hill/Spangler Farm Trail
These trail proposals are still delayed pending a review by the NPS regional office.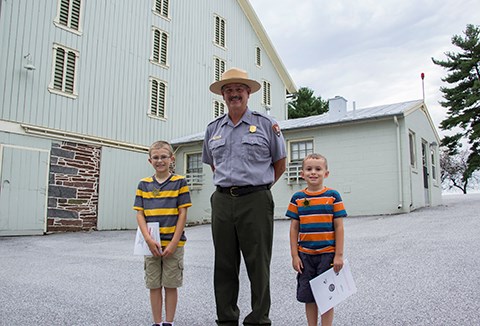 Improving Visitor Access to Eisenhower National Historic Site
The site is continuing to prepare for the continued planning process for the Visitor Use Management Plan. The development of alternatives is planned for fall of 2018.
EISE Long Range Interpretive Plan (LRIP)
EISE staff will be working with Interpretive Planning specialist from the Harpers Ferry Center to host three one-day workshops to start the planning process for a Long Range Interpretive Plan. The plan would provide guidance for the interpretive services, programs, and stories told at the site. Site staff and stakeholders will be invited to participate in the one-day workshops, scheduled for August, October and December.
At a Glance ~ Summer 2018

Gettysburg National Military Park

$6.9 million for FY 2018 federal budget
6,033 acres in the park boundary
216,346 visitors as of April 30, 4.5% less than 2017
52 permanent and 40 seasonal employees

Eisenhower National Historic Site

$1.1 million for FY 2018 federal budget
690 acres in the park boundary
6,833 visitors as of April 30, 12% less than 2017
5 permanent and 2 seasonal employees
Last updated: June 27, 2018