2017 Year in Review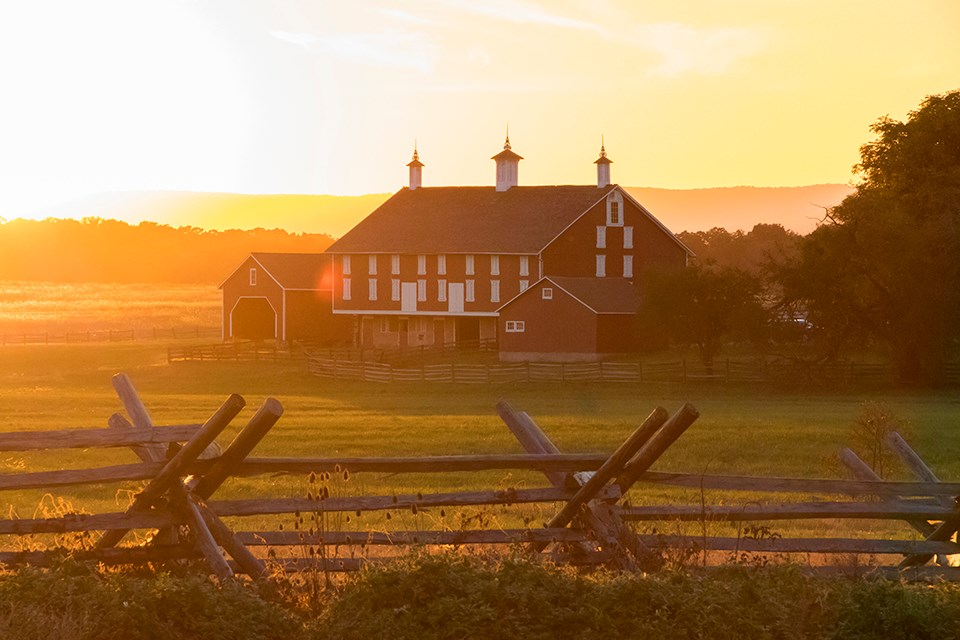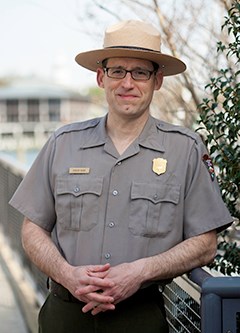 Leadership
Charles E. "Chuck" Hunt
started his 120-day temporary assignment as acting superintendent at Gettysburg National Military Park (GETT) and Eisenhower National Historic Site (EISE) in mid-October. Hunt comes to the temporary assignment from his post as superintendent of the Chesapeake Bay Office of the National Park Service in Annapolis, Maryland. The park is grateful to Bill Justice for his service as acting superintendent for 120 days which ended on October 1. Bill Justice has resumed his superintendency at Vicksburg National Military Park. Ed Clark is on detail as the acting chief for the Park Planning and Special Studies Division of the Northeast Regional Office.
Stewardship

Little Round Top: This project would provide solutions for overuse, overcrowding, and landscape degradation, as well as identify appropriate locations for visitor accommodations at Little Round Top, one of Gettysburg's most heavily visited sites. We want to provide the highest level of visitor access to Little Round Top and its surroundings while ensuring the protection and stewardship of this culturally and historically significant site. The ultimate goals of this project would provide enhanced traffic flows and pedestrian safety, limit landscape degradation, improved visitor accommodations and experiences, and additional, limited parking. At this time, the project costs are still being determined. Our partner, the Gettysburg Foundation, has committed to matching federal funding up to $5 million.

Powers Hill/Spangler Farm Trail: Funding for this proposed new interpretive trail will be provided by a combination of NPS Centennial funds, matching funds from the Gettysburg Foundation and grants. Costs for the one mile trail connecting the Museum and Visitor Center with Powers Hill and the George Spangler Farm are estimated at $913,000. Construction will begin in 2018.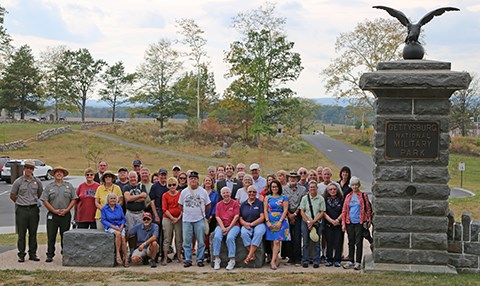 Cemetery Ridge Rehab Completed:
On October 6, the park and the Gettysburg Foundation had a small ceremony at the newly rebuilt Hancock Avenue gate marking the completion of all major components and the Foundation's involvement in this Centennial project. The project restored battle era features at the center of the Union army's battle line on Cemetery Ridge, including Ziegler's grove, Ziegler's ravine, the Hancock Avenue gate and commemorative walkways.
Comprehensive Community Trails Plan:
An Environmental Assessment will be available for public comment and review in 2018. The plan will provide alternatives for new trails and connections at GETT and EISE for pedestrian, cyclists, and equestrian users.
Minor Boundary Revision:
The NPS Northeast Regional Director has recommended this proposed boundary revision at GETT. The boundary revision would be comprised of six parcels owned by the Civil War Trust and the Gettysburg Foundation, including Lee's Headquarters and a site adjacent to McAllister's Mill, a National Underground Railroad Network to Freedom site.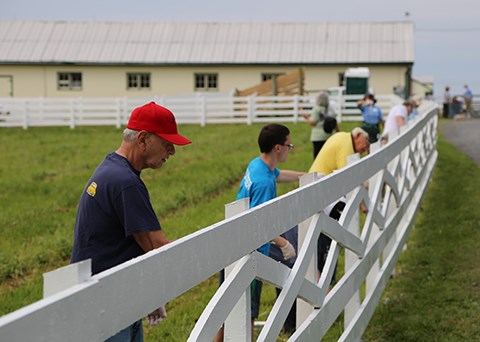 Operations - Gettysburg National Military Park
Volunteer Programs Cap 72,000 Hours:
The National Park Service appreciates the 4,955 volunteers who play such an important role at GETT and EISE each year. Volunteers work in crucial positions helping with preservation, interpretation, and visitor services. They help in the cannon carriage restoration shop, help staff the information desk, museum exhibits and the Resource Room at the Museum and Visitor Center, as well as the park library. They provide hands-on care in both parks' museum and archival collections. They do Park Watch patrols and serve as "living historians" presenting Civil War, First World War, and World War II programs and encampments. They perform outdoor work such as brush cutting, fence building, and painting through "Adopt-a- Position," the annual Friends of Gettysburg work day, and other volunteer events. They even plant and care for Ike and Mamie's vegetable garden!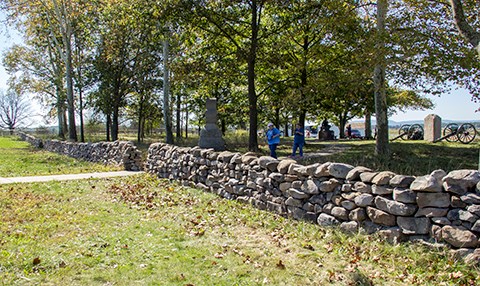 Rebuilding Stone Walls:
The park will be contracting with the NPS Historic Preservation Training Center to rebuild additional historic stone walls in two locations on the Gettysburg battlefield: along the Emmitsburg Road south of the Peach orchard and along the Slyder Farm lane. The walls will be a representation of what was was there in 1863, not a perfect recreation. The locations and alignment of the walls will be based on historic photographs and maps, including the Bachelder Isometric map, the G. K. Warren Map, the U.S. War Department survey maps of 1893-1895, and rigorous research by NPS historians. The park rebuilt 1,526 feet of historic stone walls in the winter of 2016/2017.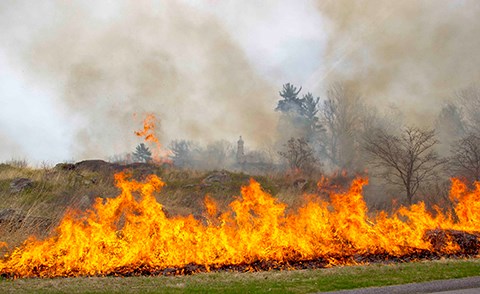 Prescribed Fires:
In April this year, fire specialists from the NPS Northeast Region assisted the park with two prescribed fires:
52 acres at Little Round Top
, and
14 acres at Pardee field
. Prescribed fires help maintain the open fields and meadows of the Gettysburg battlefield by reducing woody vegetation without the use of chemicals or labor-intensive mowing or mechanical hand trimming. The park plans to have additional prescribed fires in the spring and fall, weather permitting.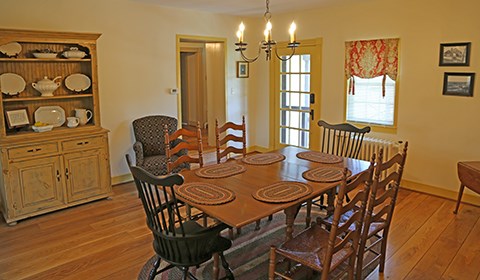 Vacation Rentals of the Bushman House:
We've had an enthusiastic response from park visitors interested in overnight stays in the Bushman House. The guests have really enjoyed the unique interpretive experience of spending time in a battle era home in the heart of the Gettysburg battlefield. Revenues are helping to fund the care of additional historic houses within the park. The website, Recreation.gov, handles the bookings.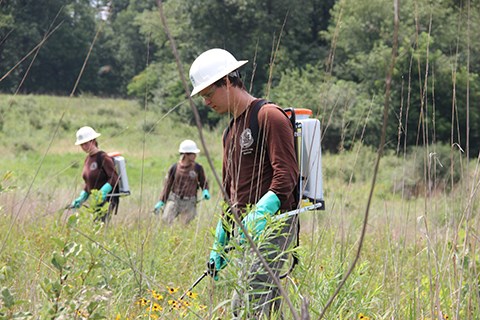 Preservation Maintenance:
In the past year we completed re-roofing, windows and sash repairs, re-painting, water infiltration projects, and major repair/rehabilitation projects on historic structures. In addition to ongoing preservation maintenance and restoration of monuments and cannon, major rehab and preservation was completed at the Eternal Light Peace Memorial and the High Water Mark monument. Routine maintenance continued on roads and trails, and fire detection and suppression, and other systems throughout GETT and EISE.
American Conservation Experience (ACE):
Based on the Youth Conservation Corps, the ACE program provided workers at GETT for six months. They treated non-native invasive vegetation, and cut brush to help maintain historic landscapes. The program helps eliminate backlogs and engages young adults in conservation experiences with the National Park Service.
First Amendment Permits:
GETT issued four "First amendment" permits for July 1. Numerous participants came with weapons (it is legal to openly carry weapons in PA.) Park staff worked with U.S. Park Police, NPS Special Event Teams, Pennsylvania State Police, and local police departments to ensure safety and security during the events. Unfortunately one participant accidentally discharged his personal firearm, wounding himself in the leg. A U.S. Park Police officer quickly responded, applying a tourniquet that likely saved the man's life. He was transported to a local hospital and recovered.
Museum and Visitor Center Security:
Guard services started in August, providing additional security at the Museum and Visitor Center, including bag checks. This has freed up the park interpretive staff so they can focus on providing visitor information.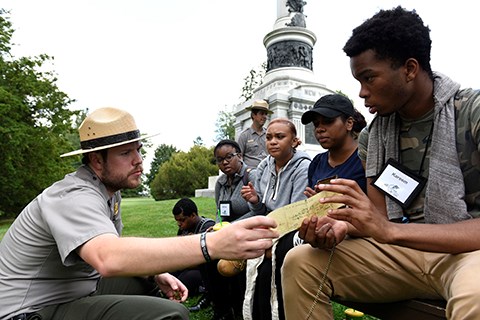 Gettysburg Interpretation and Education
The Gettysburg Great Task Youth Leadership Experience:
This new and exciting two-day program is geared toward low-income and minority high school students and focuses on the decisions, choices, and, most importantly, the leadership demonstrated by ordinary individuals faced with extraordinary challenges during the Battle of Gettysburg. By examining and recreating these challenges, students will be able to identify and develop their own leadership skills and be inspired to use the lessons learned to make a positive impact in their own communities or in their own schools. This summer and fall, the park and the Gettysburg Foundation hosted over 200 students for this new program on the battlefield.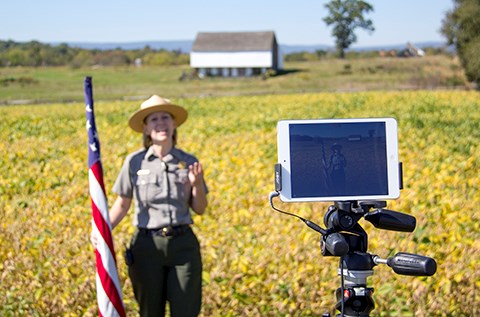 Expanded Interpretive Programming:
This summer the park experimented with a new Facebook Live and Periscope series called "Coffee with a Ranger." We invited digital visitors to have their morning coffee with a Ranger, while exploring the battlefield via these social media platforms. Over 70,000 people viewed the series from the comforts of their own home (or device). The park also expanded its family and youth programming. Every Sunday the park hosted "Summer Reading Adventures," inviting young visitors and their families to read a history themed children's book with a Park Educator, and a series of Family History Hikes that explored the battlefield.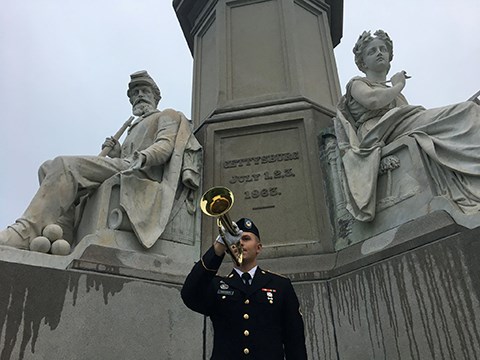 100 Nights of Taps:
Gettysburg National Military Park joined with the Lincoln Fellowship of Pennsylvania and Taps for Veterans to host "100 Nights of Taps" at the Soldiers' National Monument. Every evening from Memorial Day to Labor Day volunteer buglers donated their time and talents to play taps over the graves of Union soldiers killed during the Civil War and America's subsequent conflicts.
Licensed Battlefield Guides:
A written exam will be offered on December 2, 2017. The exam is the first step in a five tier process that also includes a panel interview; field practicum; oral exam; and post-licensing orientation. Based upon park needs and visitor demand, the park will only be licensing individuals for the full-time license category.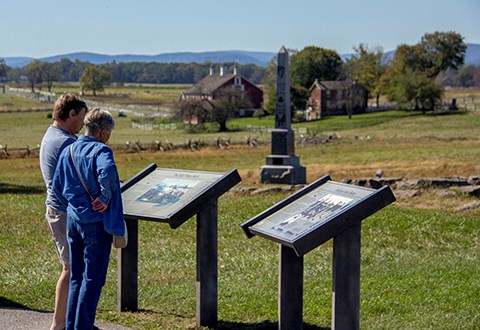 Wayside Exhibit Plan:
Work continues on creating a new, comprehensive, interpretive wayside plan. The final product will feature over 80 new interpretive waysides throughout the battlefield with new text, images, and tactile elements. This wayside project, one of the largest in the NPS, will shape how visitors explore and understand the battlefield for generations to come. The initial draft and proposal is near completion and will soon transition to the design, fabrication, and crafting the text.
Artists-in-Residence:
GETT and EISE welcomed 12 artists this year for month-long residencies, including several veterans. Artist engagement events were held at the David Wills House and in the Museum and Visitor Center. The program is providing unique perspectives on the parks and their interpretive stories, as well as new opportunities for engagement.
Eisenhower Stewardship and Education
World War II Weekend:
On September 16 and 17, the park hosted nearly 3,000 visitors and 650 living history volunteers for the 21st annual World War II weekend. Visitors enjoyed encampments, drills, and programs, especially the historians, WWII vets and civilians who shared their personal stories. Licensed Battlefield Guide Ralph Siegel provided guided walks of World War II burial sites in the Soldiers' National Cemetery. The National Park Service is tremendously grateful to all the volunteers for this successful weekend, especially Boy Scout Troops 71 and 105!
Improving Visitor Access:
Eisenhower National Historic Site is completing a transportation study that analyzes current visitor transportation and access. In addition the park completed a visitor use field survey in June, 2017 to determine trends in visitation, what visitors would like to do while visiting, and what their opinions are regarding interpretive programs and site access. These studies will contribute to a Visitor Use Management Plan to evaluate the benefits and impacts of alternative transportation/shuttle service, on-site parking and trails, and a combination of both. It will also evaluate new interpretive opportunities and improvements to site infrastructure to support new interpretive and education programs. Public scoping for the Visitor Use Management Plan was held in July and August 2017.
Eisenhower Temporary Exhibit:
The park is developing a new exhibit about Eisenhower for display in the Gettysburg National Military Park Museum and Visitor Center. NPS, the Gettysburg Foundation, and the PRD Group, a museum planning, research, and design firm, developed the exhibit concept. It will showcase President Dwight D. Eisenhower and First Lady Mamie Eisenhower's accomplishments on the national and world stage while they lived at their Gettysburg farm. Opening date is tentatively set for June 6, 2019.
At a Glance ~ 2017

Gettysburg National Military Park

903,041 visitors through September 2017, a decrease of 4.7%.
6,033 acres in the park boundary
$6.9 million FY 2017 federal budget
3,957 Volunteers worked 53,154 hours
53 permanent & 29 seasonal employees
Soldiers' National Cemetery: Final resting place of more than 6,000 veterans & dependents

Eisenhower National Historic Site

39,257 visitors through September 2017, a decrease of 10.7%.
690 acres in the park boundary
$1.1 million FY 2017 federal budget
998 Volunteers worked 19,156 hours
8 permanent & 2 seasonal employees
Last updated: February 21, 2018