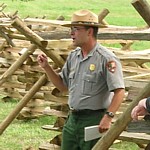 Gettysburg Podcast Tours
In partnership with Civil War Traveler, Gettysburg National Military Park has developed the first battlefield "podcast" tours. Podcasts are file systems that can be downloaded onto an iPod or mp3 player, then taken to the park for a 90-minute walking tour of a Gettysburg battlefield landmark. Podcasts are located on our partner's web site at Civil War Traveler.com. There you will find detailed instructions on how to download the tour as well as maps that are essential for the listener to locate stops on the tour.
Gettysburg's podcast tour are hosted by Gettysburg Interpretive Ranger Eric Campbell, whose thorough knowledge of the Battle of Gettysburg will make your audio tour one of the highlights of your visit. Eric's tours include Little Round Top, Devil's Den, and a recently added tour of the Wheatfield. Park Historian John Heiser hosts a walking tour of Pickett's Charge, tracing the route of Pickett's Virginians on that fateful day in 1863.
Remember that the tours offered here have not been scripted and you will be listening to real time interpretation of the battlefield. After you download and listen to the program, take a moment to contact us with your comments and suggestions for future podcast offerings.