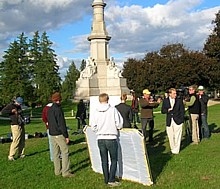 "Big Deal at Gettysburg: The Value of Historical Places"
Gettysburg National Military Park and the Gettysburg Foundation are proud to partner with professional film makers to develop and present Student Educational Broadcasts via satellite downloads to students and teachers all across the country. Since the first broadcast in 1999, the park has provided these programs free of charge, beaming stories from the battlefield directly into the classroom! The programs are meant to be compatible with classroom agenda, divided into segments to allow students to discuss the different perspectives presented during each show, and what lessons can be taken from the experiences and themes presented.
"Big Deal at Gettysburg: The Value of Historic Places", was made possible through a generous gift to the Gettysburg Foundation from Bob and Marion Wilson and the Winnick Family Foundation, and carried on the tradition of the park's Student Educational Broadcasts with a theme centered on preservation of the battlefield park and understanding the lessons learned from this moment in American history.
YEAR SATELLITE BROADCAST
What was this broadcast about?
Business executive Elizabeth Hoover has been given a task to secure key Gettysburg properties for her firm and the trip to Gettysburg holds more in store for her than she could have ever imagined. Will her endeavors earn her a promotion or will she leave Gettysburg understanding that historic value sometimes trumps property value? Follow her journey with her teenage son from the historic George Spangler farm to the Gettysburg Railroad Station, to the David Wills House and the Soldiers' National Cemetery as she rediscovers the significance of the battle and a president's speech that shaped a nation.
Information for Educators & Broadcasters
The broadcast was designed to be shown in three segments (approx. 20 mins. each), with online discussion- circle questions and activities for each segment. Teachers will be able to use these tools to bring their social studies, language arts and citizenship lessons to life. The broadcast and accompanying lessons were designed in accordance with the National Council for the Social Studies curriculum standards and themes.