Reading Adventures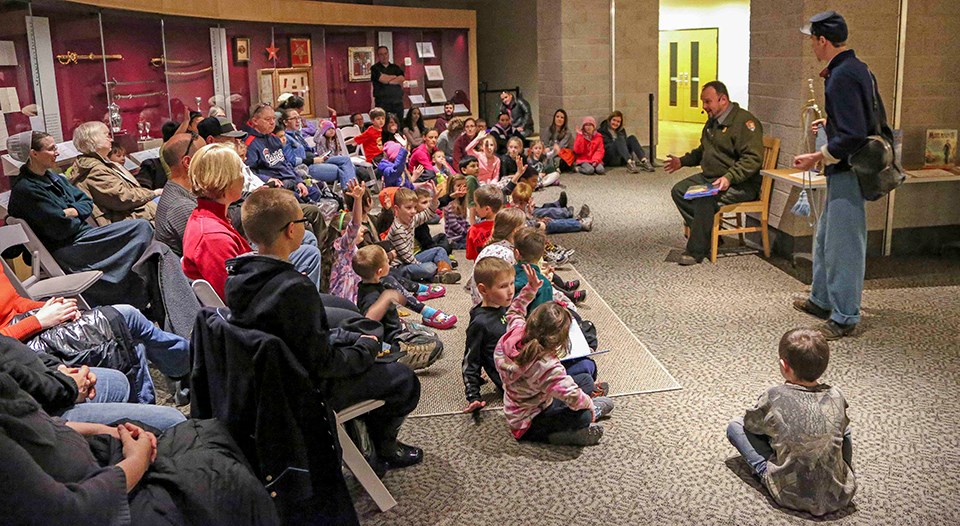 "Join the Civil War Army"
A Reading Adventure at Your School
Recommended for Kindergarten through 3rd Graders
Your Mission
: To make your students life-long readers and learners.
Our Mission:
To visit as many classrooms as possible with a true reading adventure that brings books to life for your students.
Choose from one of the four book options below, and schedule a time for a park educator to come into your classroom to read the book, show everyone some of the uniform items and equipment of a Civil War soldier, and lead everyone in drill practice (among other surprises).
The Last Brother: A Civil War Tale
is a fictional story set at the battle of Gettysburg about a young bugler in the Union army who befriends another young bugler in the Confederate army.
The Eternal Soldier: The True Story of How a Dog Became a Civil War Hero
is all about Sallie the dog, the official mascot of the 11
th
Pennsylvania Infantry Regiment who stayed on Oak Hill in Gettysburg with the dead and wounded soldiers of his unit after the fight on July 1, 1863.
Billy and the Rebel: Ready-to-Read True Civil War Story
is based on the life of Billy Bayly, a real boy who lived in Pennsylvania and had an unlikely friendship during the battle of Gettysburg.
The Soldier's Tree
, a brand new book written and illustrated by two Gettysburg National Military Park college interns, is all about the historic Honey Locust "witness" tree that still stands within the Soldiers' National Cemetery on Cemetery Hill in Gettysburg.
The Reading Adventure can be assembly for whole grade (with book pages on large screen), or a classroom experience; lasts 45 minutes to one hour; schools must be within reasonable driving distance of Gettysburg.
Email our education staff
for more information and to schedule a Reading Adventure at your school.
Last updated: October 1, 2019