The Great Task Youth Leadership Experience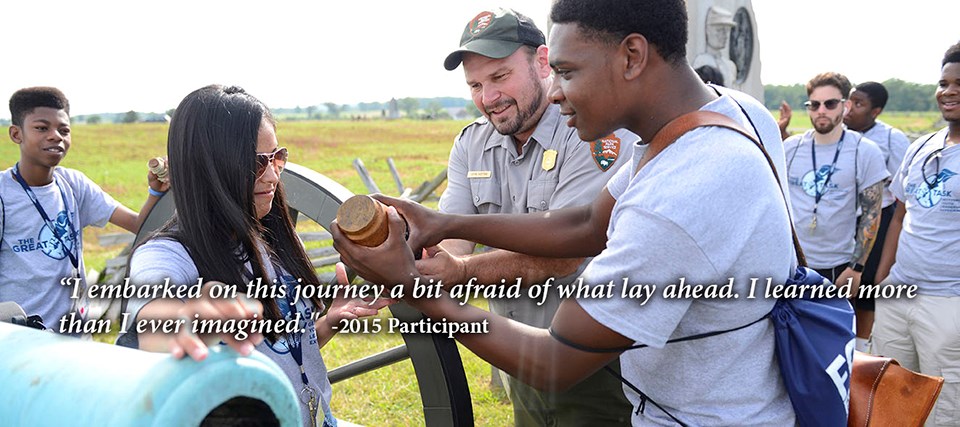 "The Great Task" Youth Leadership Programs in Community Service
Offered July through October for student and youth groups looking for something MORE!
It is rather for us to be here dedicated to the great task remaining before us – that from these honored dead we take increased devotion to that cause for which they gave the last full measure of devotion…
President Abraham Lincoln, November 19, 1863
History can do more than instruct; it can also
inspire
. The
"Great Task" Youth Program
in Community Service and Leadership is for student or youth groups in grade levels 7 to 12, looking for intensive leadership and character-building experiences that go beyond traditional curriculum-based field trips. While in Gettysburg, participants of the "Great Task" program will learn about the actions, decisions, leadership and other traits (including integrity, endurance, teamwork and others) demonstrated by ordinary individuals confronted with the extraordinary challenges presented by the Battle of Gettysburg, whether they were soldiers, doctors, nurses, or civilians. Participating students will then work to apply lessons of leadership and good character to identified community service projects in their own home communities.
Past participants have included student councils, Boys and Girls Clubs, scout troops, after-school program organizations, and youth military and service organizations. The Great Task Program is tailored to the goals and mission of your organization. Visit the
American Battlefield Trust website
for more information and to apply.
Last updated: April 7, 2020