Artist in Residence Program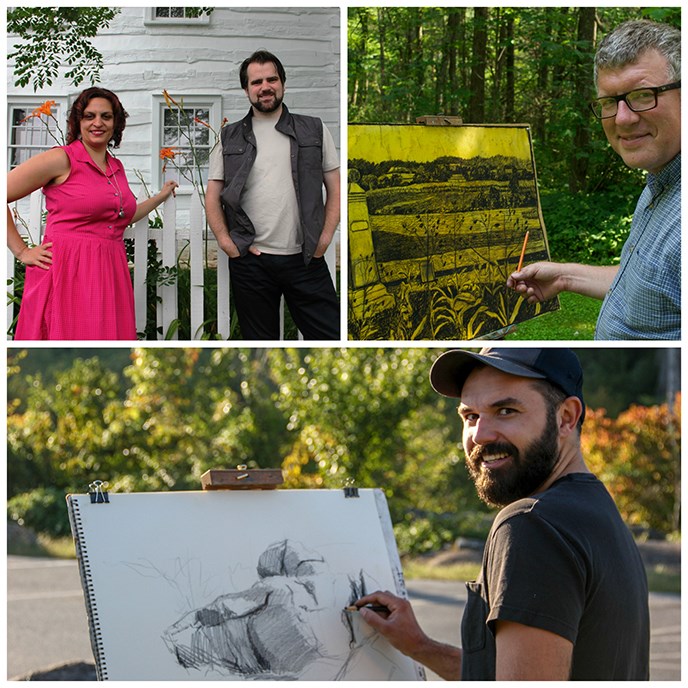 The Artists-in-Residence program for 2018 will bring 10 different artists to work, live and interact with visitors at Gettysburg National Military Park. The
National Parks Arts Foundation
(NPAF) and the
Gettysburg Foundation
support this program, with the NPAF selecting artists from a pool of distinguished applicants who want to broaden their art practice while spending a full month at this historic battlefield. This includes an innovative, expanded pilot program for U.S. Veteran Artists that was established first at Gettysburg and ties the park's historic mission to its 21st century present.
NPAF is looking for any sort of artist, from traditional landscapes, photographers, to performers, installations, films/video, as well as writers, poets, sound artists, and new arts media. Virtually any approach can find a place at Gettysburg -- what matters is vision and talent.
This year the NPAF has introduced programmatic themes to the residencies in order to diversify the interconnection of the arts with broader audiences. The themes are:
U.S. Military Veteran Artists:
Gettysburg's Artists-in-Residence will be U.S. Military Veterans, bringing a unique perspective to arts in the park.
Open Category All Arts Media:
Open to any and all artistic media including cross-overs or hybrids with any of the other programmatic themes.
Poetry/Literaudiarts:
NPAF's most fascinating theme focusses on many and all linguistic, words, sounds, song and music. A few examples of this are poetry, screenplays, spoken word, environmental recordings, sound art, and wall of sound experimentation.
"Artists-in-Residence are creating new connections with the Gettysburg community and with the American public," said Christopher Gwinn, Chief of Interpretation at Gettysburg National Military Park. "The artists are telling Gettysburg's stories in new, compelling ways that inspire people to learn more and help preserve these special places."
GET INVOLVED
For information about how to apply for residencies at Gettysburg and other national parks, or to learn more about how to support arts in the parks, visit the
National Parks Arts Foundation
or email them at admin@nationalparksartsfoundation.org.
The National Parks Arts Foundation is a 501(c)3 non-profit dedicated to the promotion of the National Parks of the U.S. by creating dynamic opportunities for artworks that are based in our natural and historic heritage. This project is supported entirely by donation and generous partnerships.
Last updated: March 26, 2018