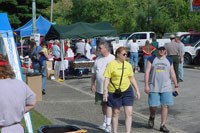 George Rogers Clark National Historical Park's location near downtown Vincennes, IN plus its beautifully manicured landscape, have made the park a choice spot for festivals, gatherings, weddings, and other special events. (For more information about weddings on grounds, click here.)
Each of these uses of the park grounds must be conducted in accordance with a special use permit. Permits may be applied for through the park superintendent's office at 401 South 2nd St., Vincennes, IN 47591. All requests must be submitted on NPS Form 10-930s Application for Special Use Permit.

There is also a separate special use permit application for commercial photography and video. The short form is located here. The long form is located here. These applications are available at the park office or can be faxed or e-mailed upon request. However, the form cannot be submitted electronically.

Contact the park for a copy or more information at 812-882-1776 ext. 1210
Rules and regulations pertinent to special use permits:
One person should serve as liaison with the National Park Service.

Please note that this permit application cannot be accepted electronically. Please print off the application, complete it, and return to park staff as soon as possible.

The permittee and all members of the group will comply with any instructions from the NPS representative.

Launching, landing, or operating an unmanned aircraft from or on lands and waters administered by the National Park Service within the boundaries of George Rogers Clark National Historical Park is prohibited. ---The term, unmanned aircraft, means a device that is used or is intended to be used for flight in the air without the possibility of direct human intervention from within or on the device, and the associated operational elements and components that are required for the pilot or system operator in command to operate or to control the device (such as cameras, sensors, communication links). This term includes all types of devices that meet this definition (e.g. model airplanes, quadcopters, drones) that are used for any purpose, including for recreation or for commerce.

Nothing shall be attached to any cultural or natural object, bench, handrail, fence, tree, shrub, or other object.

Any public address system being used shall be adjusted to accommodate only those people in the immediate area.

Food booths will be operated in compliance with all public health and safety requirements.

The area will be left in the same condition as found. Any park property damaged by, or as a result of, the permit holder, will be replaced or repaired at the cost of the permit holder.

Litter containers will be provided by the permittee. The permittee will also be responsible for emptying these containers.

No stock animals are allowed on park grounds. Pets must be on a leash and away from the public.

It is expressly agreed and understood that this permit does not authorize the permittee to advertise, solicit business, collect fees, or sell any goods or services on lands owned and controlled by the United States. Exceptions may be made with prior approval from the park superintendent.

The permittee is responsible for providing for any and all security for the event including evening and night security.

Any activities that are not specifically mentioned in the permit would require additional permission from the park superintendent.

No holes may be dug in the lawn, and no stakes or anchors may be set without first checking with the park staff to determine locations of sprinkler lines.

Vehicles may not be parked on lawn areas of the park. Vehicles may cross the lawn area for loading and unloading only if conditions permit. During wet conditions the park representative should be contacted prior to doing so.

All clean up and removal activities are to be completed by the close of business on the day following the close of the event.

Stage (performing area), generators, and other equipage which may cause damage to the lawn or other natural features, must be confined to paved areas.