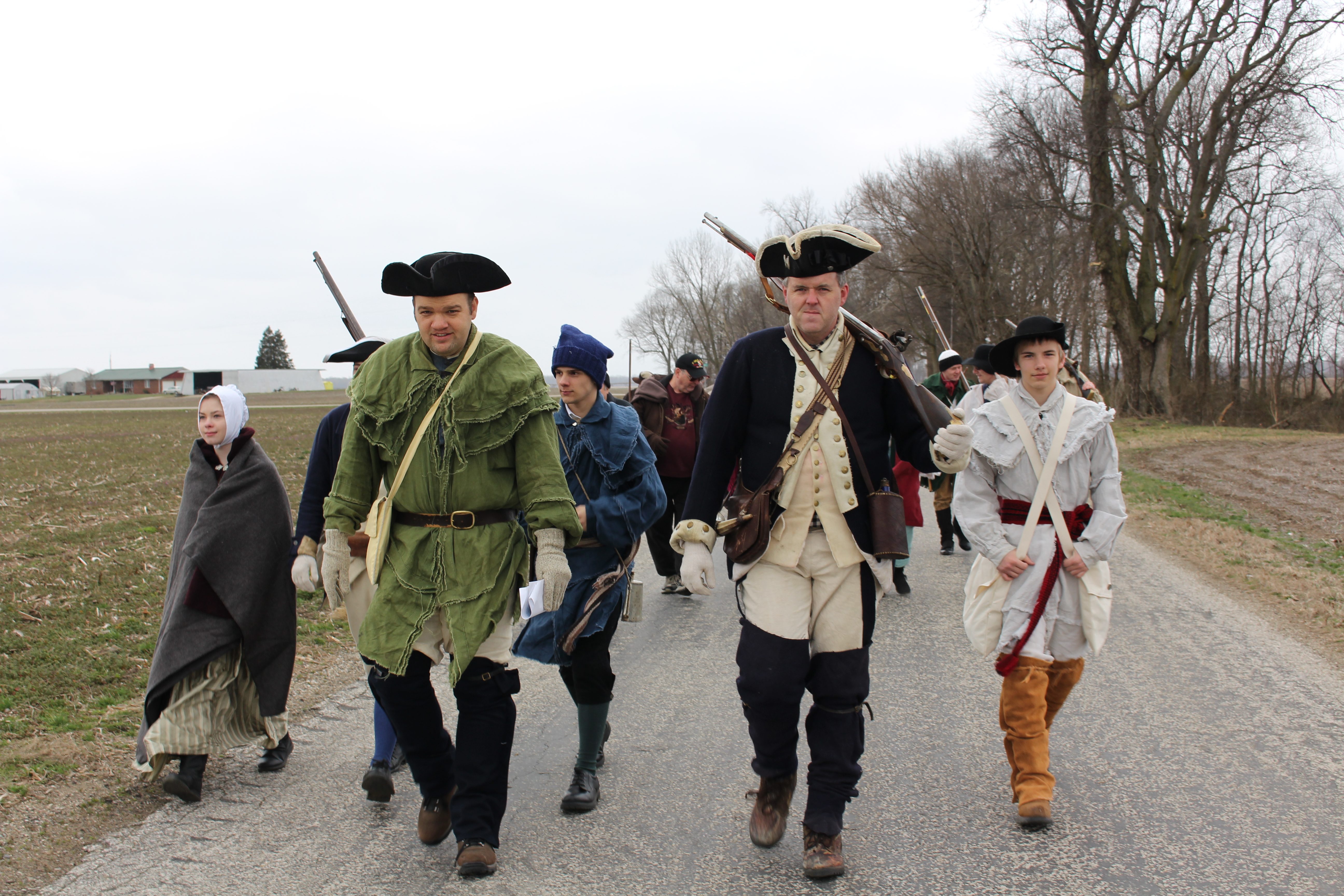 News Release Date:
February 15, 2018
Contact: Jason Collins, 812-882-1776 x. 1207
According to British Lt. Governor Henry Hamilton's Journal, Fort Sackville surrendered to George Rogers Clark at 10:00 am on Wednesday February 24, 1779. However, accounts from George Rogers Clark put the surrender of the fort on Thursday February 25, 1779. Clark's men had spent weeks in freezing water, while Hamilton was warm inside the fort. Who's right? Most historians side with Clark and thus the fort's capture is commemorated on February 25. But the debate continues. 
Something that is not debated, however, is the date for the annual George Rogers Clark March. On February 24, 2018, exactly 239 years after the fort surrendered, according to Hamilton's date, you are invited to follow in the footsteps of George Rogers Clark and his army as park staff and volunteeers remember the heroic march that changed a young country's history. This year's version of the annual George Rogers Clark March will be the traditional (approximately five miles) walk. Pre-registration is encouraged. Please contact Ranger Jason Collins at 812-882-1776 x. 1207 or Jason_m_collins@nps.gov by Wednesday February 21. 
After the buses depart the visitor center, they will travel down S. Sixth St. Road to a point near the original Sugar Camp of 1779. From there, the group will walk roads that closely parallel Clark's actual route into town. 
This year's march will continue the tradition of park staff and volunteers taking on the roles of Clark's soldiers and other participants. Jason will provide commentary, but the staff and volunteers will share the story. 
The particulars for the march have not changed. The buses will arrive at the visitor center (401 S. 2nd St. Vincennes) around 9:30 a.m. and depart at 10:00 a.m. (Eastern Time). Remember, the march will take place no matter what the weather conditions, so please dress appropriately! 18th century dress is recommended but not required. There is no fee charged for the march.