Grant's 200th Birthday
2022 marks the 200th year since Ulysses S. Grant's birth in 1822. The main event to celebrate this occasion will be on Grant's birthday on April 27th.

Join us on the main plaza at 11:00 am for the USMA West Point Honor Guard & Military Band Ceremony with several guest speakers. From 12:00-12:30 pm the reception and refreshments will be available courtesy of Grant Monument Association. Then from 1:00-2:00 pm join author Brooks D. Simpson for a presentation and book signing. The General Grant National Memorial will be commemorating the 200th Anniversary of Grant's birth starting the week of April 24th with events virtually and in person until the end of the month on April 30th. All events are open to the public and reservations are not required.

These events and others as we celebrate through the end of the year will be listed below.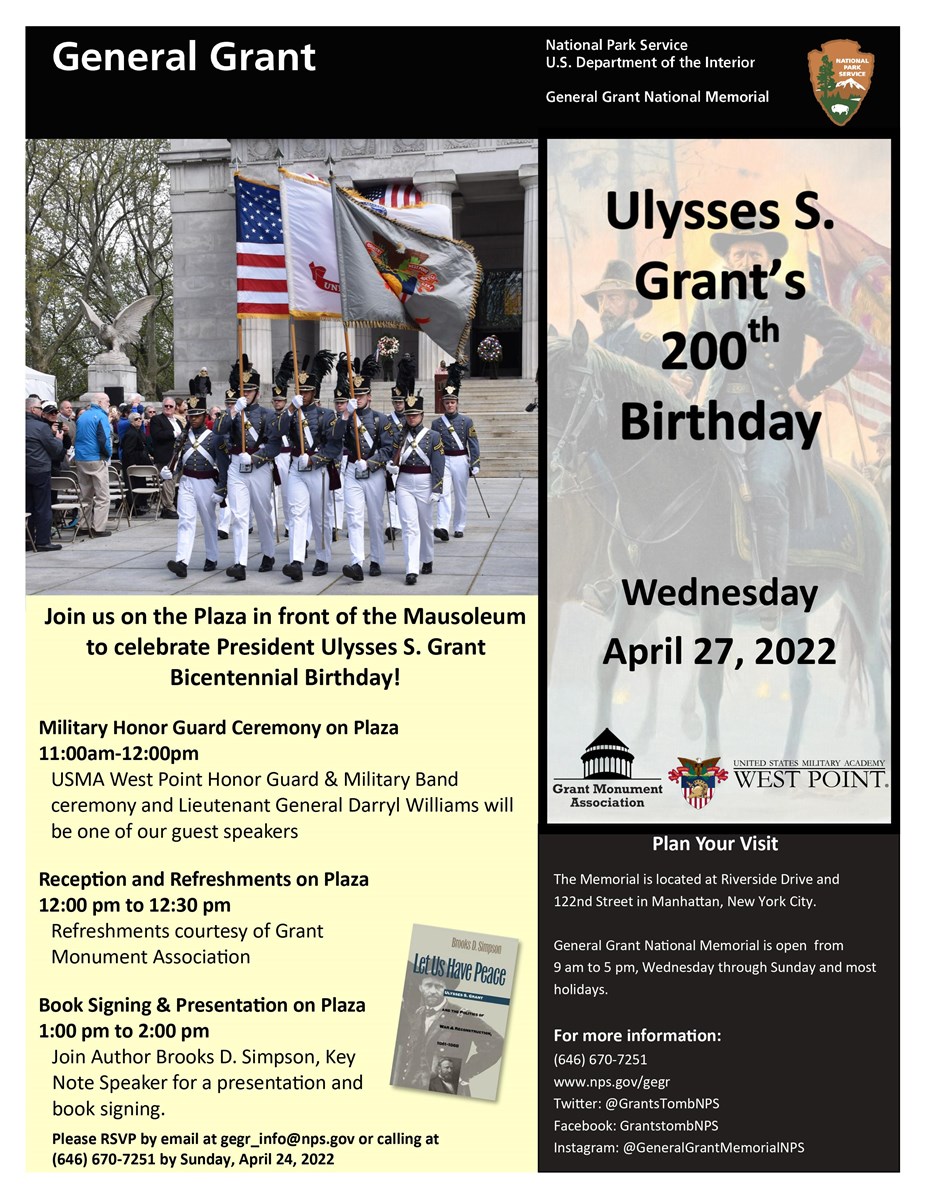 Sunday April 24, 2022
Opening ceremony with The Sons of Union Veterans
11:00 AM - To commemorate the 200th anniversary of the birth of General and President Ulysses S Grant the Sons of Union Veterans of the Civil War will conduct a color/honor guard and wreath laying ceremony on the front plaza of the mausoleum.


Tuesday April 26, 2022
Virtual programs highlighting Grant's civilian life.
10:00 AM:
Ulysses S Grant National Historic Site
Historic House Tour
1:00 PM: History of Grant Cottage Virtual Program
Wednesday April 27, 2022
Ulysses S. Grant's 200th Birthday
11:00 AM-12:00 PM: Military Honor Guard Ceremony on plaza
12:00-12:30 PM: Reception and Refreshments on plaza
1:00-2:00 PM: Book signing and Presentation by author Brooks D. Simpson
Thursday April 28, 2022
"Mother Takes Riverside"
Virtual Program colloboration with Ben Kemp of Grant Cottage on Mt. McGregor, NY
11:00 AM - PART 1
12:30 PM - PART 2
Saturday April 30, 2022
Come celebrate Grant's 200th Birthday with Living History demonstrations at the General Grant National Memorial. Watch history come alive as living historians will be reenacting daily life during the American Civil War. Demonstrations will be held on the plaza from 11am to 4pm on Saturday April 30th.
11:00 AM: Park Ranger talk on Grant's 200th
12:00 PM: Talk on "West Point in the Time of Grant"
1:00 PM: Historical music performance by Linda Russell
2:00 PM: Talk on "Army Field Music during the Civil War"
3:00 PM: Junior Ranger activities

Last updated: May 12, 2022