Things to Do -- Jamaica Bay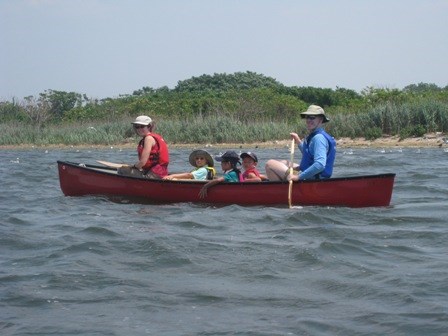 Looking for fun this week?
Gateway's calendar include nature walks, fitness activities and historic tours and programs for all of Jamaica Bay.
Archery
Archery is available year-round at Floyd Bennett Field with a permit. Please call 718-338-3799 for more information and permits.
Biking
Bike along the historic runways of Floyd Bennett Field, or along trails at Fort Tilden. The Rockaway Gateway Greenway, a paved multi-use pathway adjacent to both Floyd Bennett Field and Jamaica Bay Wildlife Refuge, offers a unique way to see the park.
Birding

Birding is great at the Jamaica Bay Wildlife Refuge, as well as the back fort area of Fort Tilden, and the North Forty area of Floyd Bennett Field.
Please remember that in order to provide food for wildlife, the removal of any plant materials, including fruits, berries, nuts and seeds is prohibited from Jamaica Bay Wildlife Refuge.
Boating

Park programs for small boat sailing, canoeing and kayaking are offered in Spring, Summer, and Autumn. Call (718) 338-3799 or e-mail us for reservations.
Hand - launched privately owned small boats (canoes, kayaks, and rowboats) may be launched from various sites around the Jamaica Bay Unit. For information on launch sites call 718-338-3799.
During summer, basic sailboat instruction is offered by the park. Call 718-338-3799.
For larger boats Gateway Marina, located on Flatbush Avenue across from Floyd Bennett Field, offers slips and a full range of boating services. Call 718-252-8761.
Note: In order to protect wildlife and sensitive marsh habitat, entry into salt marshes or onto any islands in Jamaica Bay is not permitted.
Cross Country Skiing

When the snow falls, Floyd Bennett Field's North Forty Natural Area is available for cross country skiing. Park rangers will cut a trail through the snow for you to follow.
Ecology Village Summer Camping

Did you know that you can bring your class or youth group to camp at Floyd Bennett Field?

With training from the Appalachian Mountain Club's Youth Opportunity Program, you can learn all the skills you need to have a successful, fun, and unique experience with your group camping in New York City. You don't need to have any camping experience, just a willingness to learn and the time to attend training. Once the training is complete, you will have access to all the gear (tents, sleeping bags, rain jackets, cooking stove and utensils), access to the campsite and trip planning assistance.

For more details and to register for the training, visit the Appalachian Mountain Club's Youth Opportunities Program website.
You can speak with Gateway staff by emailing gate_education@nps.gov or calling Kathryn Gilson at 718-354-4530 x 222.

Exhibitors

Exhibitors: Gateway Seeks Artists to Exhibit The Jamaica Bay Wildlife Refuge seeks qualified exhibits for its gallery space. (Year-round)
Fishing

Floyd Bennett Field, Fort Tilden and Canarsie Pier offer great fishing opportunities. Call 718-338-3799 for information about where
fishing/parking permits are needed and other information for these sites.
Health Advice on Eating Fish You Catch: New York City Area (from the State of New York)
Gardening
Enjoy Brooklyn's largest Community Garden at Floyd Bennett Field. Find out more by visiting the Floyd Bennett Field Garden Association's website.
Golf

The Driving Range and Miniature Golf Course are located at 3200 Flatbush Avenue, Brooklyn NY approximately 1 mile off of Exit 11S on the Belt Parkway. The 18 hole Pitch and Putt Course is located just off the boardwalk at Riis Park Beach. It is just minutes from the Marine Park Bridge.
Hours of Operation:
Monday-Friday: 12:00 PM – 6:00 PM
Weekends: 8:00 am – 8:00 PM (last bucket sold at 7:00 PM).
History

Discover Jamaica Bay's historic sites, including Fort Tilden, a former U.S. Army post and Floyd Bennett Field, a former municipal airport and U.S. Naval Air Station.
Horseback Riding

Contact the Jamaica Bay Riding Academy at 718-531-8949. Horseback riding and lessons are available to the general public. (Year round).
Injured Wildlife: What to Do

The National Park Service, or any of its units at Gateway National Recreation Area, including the Jamaica Bay Wildlife Refuge, will not and cannot accept injured wildlife, nor will we convey any wildlife to any other agency or rehabilitator. The NPS has no staff or facility for providing veterinary care to any animal, nor do the 22 sister park sites in the NYC area. You may wish to do a Google search of a wildlife rehabilitator in your area. Bringing injured wildlife to our parkland runs the risk of introducing disease and parasites.
Junior Ranger Program

Aspiring Junior Rangers can pick up the Junior Ranger activity booklet, and earn the Junior Ranger badge and patch at Floyd Bennett Field, Jacob Riis Park (summer season), and the Jamaica Bay Wildlife Refuge.
Model Airplane Flying

Call 718-338-3799 for information on the Radio Controlled Flying Field at Floyd Bennett Field.
Passport to Your National Parks
For the collectors, passport stamps are available at Floyd Bennett Field, Jacob Riis Park, and the Jamaica Bay Wildlife Refuge. Passport to Your National Parks books are sold through the Eastern National bookstores at Floyd Bennett Field and the Jamaica Bay Wildlife Refuge.
Pets
Pets are not permitted anywhere within the Jamaica Bay Wildlife Refuge, in the Back Woods of Fort Tilden, or Floyd Bennett Field campgrounds. Pets are not permitted on ocean beaches at Riis Park, Fort Tilden, Sandy Hook, or Breezy Point Tip from March 15 - September 15, or Great Kills Park swimming beach from Memorial Day through Labor Day. Pets must be kept on leash where permitted and are not permitted in any public building.
Picnicking
Individuals can picnic at Jacob Riis Park and Canarsie Pier; barbeque grills are available. Group picnic facilities are available by permit at Fort Tilden.
Public Camping
Floyd Bennett Field has 32 tent campsites and 6 RV campsites available for a unique urban, yet rustic camping experience. Online reservations can be made by visiting www.recreation.gov. Sites are $30 per night. For more information, click here or call 718-338-3799.
Public Programs
Check the calendar to see what opportunities there are for Ranger-led and partner-led programs.
Public Recreation and Sports Fitness Facilities
Aviator Sports and Events Center, Gateway's newest and largest sports concessioner, offers indoor ice skating, hockey, a climbing wall, gymnastics, basketball, and outdoor sports fields. Call 718-758-7500, or click on the link above.
Walking & Hiking
Take a self guided trail at the Jamaica Bay Wildlife Refuge. Try the Upland, East Pond and West Pond trails. Or hike in the back fort area of Fort Tilden.
Last updated: March 25, 2019