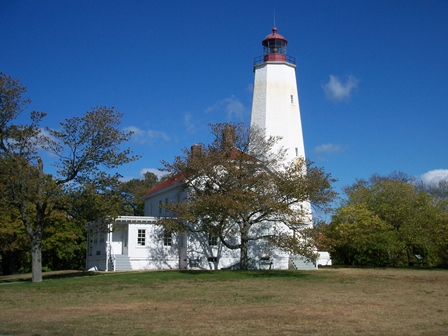 Sandy Hook Hours
April 1 through October 31: The park is open from 5 AM to 10 PM daily, except by permit or as noted below. Through the summer of 2015, there is a $15 charge per day for beach parking from Memorial Day weekend through Labor Day. Parking at Fort Hancock is always free.
November 1 through March 31: The park is open from 5 AM through 8 PM daily, except by permit.
All navigable marine waters within the park boundary are open 24 hours.
Visitor centers and contact stations are open every day EXCEPT Thanksgiving Day, Christmas Day (December 25) and New Year's Day (January 1).
Sandy Hook Lighthouse and Lighthouse Keepers Quarters / Visitor Center
Lighthouse tours: The lighthouse will be closed between September 7 and October 6 and again from October 18 to the spring of 2017 for repairs and rehabilitation. We are sorry for the inconvenience. A video in the adjacent barn is always open.

The lighthouse will be open for tours during the Fort Hancock weekend October 7 to October 9, 2016 and for the Lighthouse Challenge of New Jersey October 15 and 16, 2016.

Lighthouse Keepers Quarters/ Visitor Center:

Open 9 AM to 5 PM daily. Rangers are available to answer questions, discuss the natural and cultural resources of the park and sell Senior/Access passes. Interpretive exhibits and a gift shop are available. The visitor center phone number is (732) 872-5970.
Can I bring my pet to Sandy Hook?
Pets and their owners may visit bayside beaches throughout the year. Pets are only allowed on oceanside beaches from September 15 - March 15. Pets are not permitted on oceanside beaches during the spring and summer because that is when the threatened piping plover builds nests in those locations. Pets must always be on a leash no longer than 6 feet.