Gateway National Recreation Area Virtual Cache Program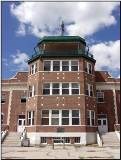 Welcome to Gateway National Recreation Area's Virtual Cache Program!
This National Park Service-sponsored recreational activity leads you to some of Floyd Bennett Field's most significant cultural and natural resources. Using your own Global Positioning System (GPS) unit or smart phone and a set of clues obtained from the website and hidden along the journey, you can guide yourself to a series of sites in the park.
To make your experience an unforgettable success, please read these guidelines and suggestions:
What you will need to participate:

1. GPS unit or smart phone with GPS application
2. A full set of Virtual Caching Sheets obtained from the park website or visitor center.
3. Trail Map of Floyd Bennett Field and Gateway National Recreation Area Brochure
4. Piece of paper and pen
5. Compass (optional, but it may prove useful)
6. Enthusiasm to learn and explore Floyd Bennett Field
Gateway National Recreation Area General information:

1. This program requires the use of park roads and trails around Floyd Bennett Field. If you want to reach all of the sites we suggest a bicycle.
2. All of the sites are located on trails or hardened surfaces. There is no need to go off trail, and doing so will take you farther away from the site.
3. As with all Virtual Cache sites, there are no physical caches to be found. You do not need to find a physical box to continue the program. Instead, you will be required to search for hidden clues and be asked to answer a question.
4. Parking is available at or near each coordinate.
5. There is no fee to participate in the Virtual Cache Program.
6. Park visitor center hours of operation: Gateway National Recreation is open from dawn till dusk every day except Thanksgiving, Christmas Day and New Year's Day.

Floyd Bennett Field Ranger Station (718) 338-3799
Open from 9 am to 4 pm

Park Police (718) 338-3988 (in case of emergency)

Please note that geocaching with traditional physical cashes is not permitted in the park.
Last updated: May 2, 2018