Fishing at Gateway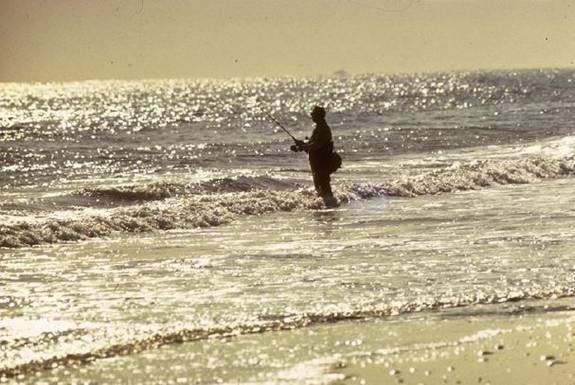 Fishing at Jamaica Bay
Fishing is permitted at Floyd Bennett Field, Riis Park (between Memorial Day and Labor Day fishing at swimming beaches are only allowed when lifeguards are off duty), Riis Landing, Canarsie Pier, Fort Tilden and Breezy Tip. Fishing permits are $50 per season and available at the Ryan Visitor Center from 9 a.m. to 5 p.m. 4X4 permits are also $50 and available at the Ryan Visitor center. The four wheel drive permit is valid anywhere at the park where the fishing permit is honored, but includes allowing the drive to the tip of Breezy Point. Please note the the road to Breezy Tip is partially closed during piping plover season. The 4 wheel drive applicant must present the following equipment at the time of permit and carry each item at all times when driving off road at the Breezy Tip Road: 7 foot (minimum) fishing pole, reel and tackle, shovel, tow chain or rope, shovel, jack, jack support board, tire pressure gauge, appropriate spare tire, trash container (trash bag) and portable toilet. These permits are available in limited numbers.
Fishing at Sandy Hook
Fishing is permitted at all ocean side beaches (Fishing Beach, North Beach, B,C,D Beaches and Gunnison Beach) except when lifeguards are on duty or are closed to protect shorebirds. Fishing is also permitted on all bay side beaches. An annual pass for nighttime fishing can be purchased at the Entrance Station from 9 a.m. to 4:30 p.m. until Memorial Day when they will be on sale from 7 a.m. to 5 p.m. for $50.
Fishing in Staten Island
Fishing is allowed at Fort Wadsworth, Great Kills and Miller Field at designated spots. An annual pass for nighttime fishing and parking at Crooke's Point can be purchased at the Great Kills Ranger Station Sunday, Wednesday and Thursday from 10 a.m to 2 p.m. for or the Miller Field Ranger Station on Friday, Saturday and Sunday from 10 a.m. to 2 p.m. for $50.
Last updated: June 21, 2019