Camping at Floyd Bennett Field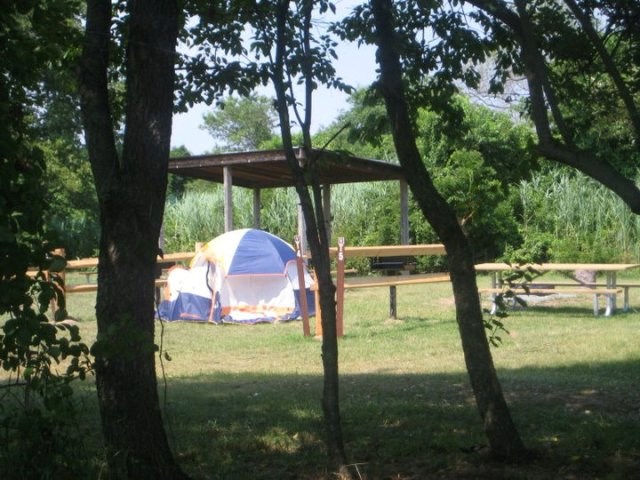 Public Camping at Floyd Bennett Field, Brooklyn
Enjoy the crackling of a campfire and sleep under the New York City sky with 32 tent sites and 9 RV parking sites to choose from. Floyd Bennett Field's camp site is from mid-May through late October. Camping reservations can be made online at www.recreation.gov.
Map of Floyd Bennett Field campground
Check in upon arrival at the Camp Store located across from the camp grounds. Click here to view the Camp Gateway brochure for campground rules and suggestions of things to do in and around the park. Day use is not allowed at Camp Gateway. Picnic areas are located nearby at Riis Beach Park and Canarsie Pier.
Rates:
$30 per night
$210.00 per week (7 nights)
$15.00 a night with the Senior or Access Pass
$105.00 a week (7 nights) with the Senior or Access Pass
Size limits: Up to six people may camp at a single site. Larger families and groups will need to reserve multiple camp sites. Sites are large enough for one large tent or two small tents.
What to bring: You must bring your own tent (required at check-in) and sleeping bags. A pad underneath your sleeping bag may cushion you better for a good night's sleep. You should also bring sunscreen and insect repellant.
What NOT to bring: Glass containers, alcoholic beverages, pets (tent sites) and charcoal grills are not allowed in the camp grounds.
Amenities: Each campsite features a picnic table, charcoal grill and a fire ring. Restrooms and showers are nearby. An on-site Camp Store offers camping essentials such as firewood, coffee, water and snacks.
RVs (Recreational Vehicles): Nine camp sites, all located in the Amelia Earhardt section of the campground, are large enough to accommodate recreational vehicles (RVs). They do not have water, sewer or electrical hookups. Tent camping is not allowed in RV sites.
Showers: Campground showers are open daily May to October, 9am - 2pm.
Access to Public Transportation: The Q35 bus takes you north to the train station for the 2 and 5 trains at Flatbush and Nostrand Avenues, a ride that takes about 15 minutes. From there, riders can transfer to other subways to get to other boroughs, such as Manhattan. The station is near a residential area. Street parking is available; read the signs for meter hours. Campers who return late must present their camping reservation confirmation from www.recreation.gov upon reentering Floyd Bennett Field.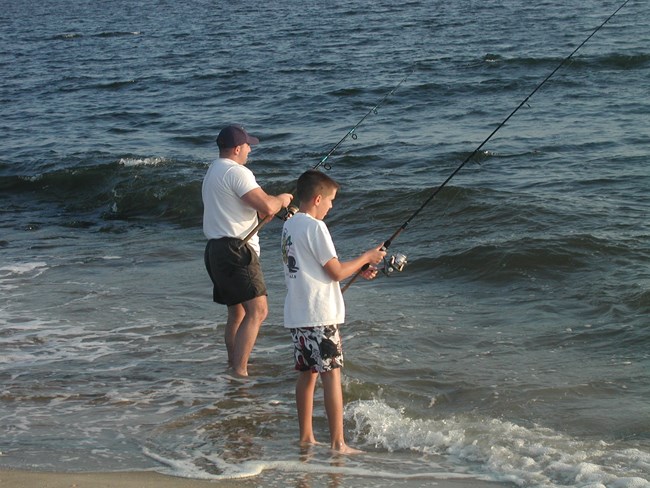 Things to Do While Camping at Floyd Bennett Field:

See our Calendar of Events for activities at the park. Activities may include campfire talks, kayaking or guided nature explorations.

Fishing: Campers may fish at multiple areas of Floyd Bennett Field. Campers must carry their camping permit with them when they are outside the campsite after sunset. The fishing laws of New York state and New York City apply. You must bring your own equipment.
Hiking and biking: Floyd Bennett Field has many paths for hiking and biking. Visitors may bring their own bicycles or rent them from Aviator Sports and Events Center, located within the park. Bikes may be used on paved surfaces only. Unpaved trails are for hiking by foot. See a map of trails at Floyd Bennett Field.
Kayaking: Campers who bring their own kayaks may use them at designated launch areas within the park. Kayaks cannot be rented within the park at this time. Check local businesses for kayak rentals.
Archery: The Floyd Bennett Field Archery Range is an outdoor range with 8-10 targets set at various distances and a covered platform from which to shoot. Use of this range is permitted with your camping reservation. Crossbows and hunting tips are prohibited. The range is accessible to persons with disabilities. Call 718-338-3799 for more information.
Swimming: If you want some time at the beach, Gateway's Jacob Riis Park offers lifeguard-protected beaches a short driving distance from the campsite. Please swim or wade only when and where lifeguards are on duty, from 10 AM to 6 PM. Swimming is not permitted at Floyd Bennett Field.
Last updated: March 5, 2019