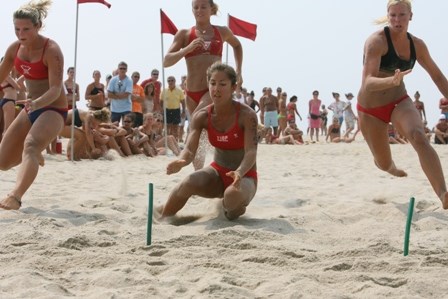 Results for All-Women Lifeguard Tournament 2012
On Wednesday, July 25, 195 women lifeguards competed in the 28th annual All-Women Lifeguard Tournament, held at Gateway's Sandy Hook Unit. This is the oldest and largest all-women lifeguard tournament in the United States. The ten contests demonstrate how smart, strong women save lives through tests of strength and endurance in the skills used by lifeguards every day.
Contestants were organized into two divisions based on the size of overall staffs. Women from New Jersey, New York, Delaware and Maryland competed in races including ocean-kayak, surf rescue and Ironwoman.
Individual top performers for the entire competition were Julia Wisler from Sea Colony, Delaware for Division I and Ashley Smith from Jones Beach, New York for Division II. Both women also won the Ironwoman races for their respective divisions. Individual race results can be found here. A full roster of contestants can be found here.
Top teams in Division I were: Sea Colony, Delaware; Asbury Park, New Jersey; Monmouth County Park Systems, New Jersey; Ocean Beach, New Jersey; and Cape May Point, New Jersey. Team results can be found here.
Top teams in Division II were: Sea Girt, New Jersey; Ocean City Beach Patrol, Maryland; Ship Bottom, New Jersey; Sandy Hook, New Jersey (part of Gateway); and Jones Beach, New York.