Webcams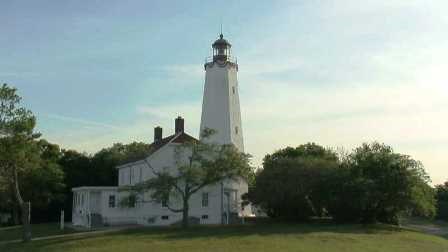 Sandy Cam is here!
Now you can enjoy spectacular views of Sandy Hook without climbing 95 steps. Exactly 250 years after the Sandy Hook Lighthouse was first lighted, it gained a new technology. Three web cameras now broadcast live from the lighthouse 24 hours a day. A fourth shows the view of the lighthouse itself.
Sandy Cam is actually more than one camera. Lighthouse Cam shows the view of the lighthouse; if you're at the park, take a selfie! Fort Cam looks west toward the bayside, while Harbor Cam points west towards the Atlantic Ocean. NYC Cam points toward the New York City skyline.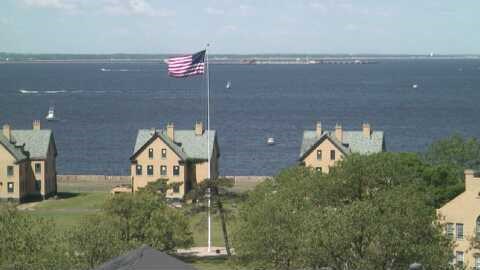 Views on Sandy Cam
Lighthouse Cam: While the other cameras show views from the Lighthouse, this camera will provide a view of the Lighthouse. When you visit, use the QR code to take your own "selfie" with the Lighthouse. You can even post it on the park's new Instagram page.
Fort Cam (west view, bayside): The yellow brick buildings were built beginning in the late 1890s by the US Army as part of Fort Hancock, now a National Historic Landmark. Buildings next to the bay are former officers' family quarters, called "Officers Row."
Harbor Cam (east view, oceanside): New York Harbor is the home of a wide variety of marine life. It is also the equivalent of a superhighway in terms of cargo ships and pleasure craft. Check out the sunrises over the Atlantic Ocean.
NYC Cam (northeast view, oceanside): To sail to New York City, ships needed to pass by Sandy Hook. In the past, US Army fortifications here protected New York City from attack by sea. On clear days, this view offers glimpses of the city skyline and the Verrazano-Narrows Bridge.
Last updated: February 26, 2015