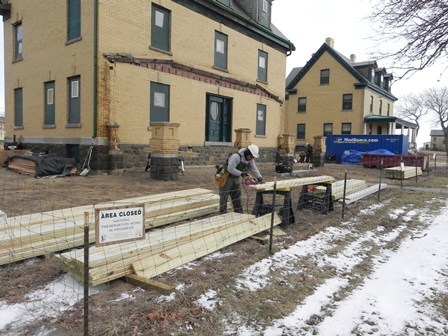 Repairs of historic porches reveal options for preserving Fort Hancock
From the parade ground at Fort Hancock, the yellow brick buildings on Officers Row stand like a line of soldiers at attention. But viewing Officers Row from the bay side of Sandy Hook reveals that these soldiers suffer deep wounds. Framed buttresses prop up sagging wooden porches with crumbling brick pillars. Fencing keeps the public at a safe distance in case of collapse.
Thanks to a programmatic agreement between Gateway National Recreation Area and the Historic Preservation Training Center (HPTC), two of the porches will be repaired. The lessons learned from the repairs will guide further porch repairs at the former Army fort, now part of Gateway National Recreation Area's Sandy Hook Unit. Exhibits Specialist Trevor Thomas leads a crew that includes Chuck Anderson, Louis Brown, Richard Buckland, and Harold Hahn from HPTC. They work three and a half ten-hour days at Sandy Hook, with a half day for travel from their home base in Frederick, Maryland. Michael Freeman and Robert Hillmann, both working in maintenance at Sandy Hook Unit, are embedded with the HPTC crew.
"This project will not only tell us what repairs are needed," said Superintendent Jennifer T. Nersesian, "but will also reveal options for preservation of other buildings, whether that work is done by the NPS or by members of the public." Gateway, with guidance from the Fort Hancock 21st Century Federal Advisory Committee, is exploring a Request for Proposals to lease and repair several vacant buildings at the fort for adaptive reuse. "The opportunity to occupy these beautiful historic structures in exchange for investing in their salvation could be a real win-win situation for everyone."
Fort Hancock, together with the Sandy Hook Proving Ground, is a National Historic Landmark District. Sandy Hook retains 110 historic buildings from the days of the Army, not including batteries. Officers Row at Fort Hancock includes Buildings 1-18, built as family quarters for lieutenants, captains and a commanding officer between 1897 and 1899. Unlike most Army bases, the homes faced the bay rather than the parade ground so that families could enjoy the sunsets. Most buildings have been vacant since 1974, when Sandy Hook became part of Gateway.
On October 30, 2012, Hurricane Sandy made landfall and flooded most of the peninsula, including Fort Hancock. Flooding and wave action damaged the west facing porches along Officers Row. "This project was developed to understand the full extent of the damage and to develop a reliable cost estimate," said Marilou Ehrler, Gateway's historic architect. "While undertaking repairs, HPTC employees will document all conditions, including what they uncover during teardown, so that the park can develop a long term treatment plan for the remaining porches."
Most of the porches are in critical to poor condition and are near complete failure. Only 30% of the material from the porch at Building 17 could be salvaged for incorporation into repairs—and that was the one in better condition. Building 7 will need a new porch built from scratch. The deck and columns will be milled to match the historical material using kiln-dried, rot-resistant hardwood to withstand the constant spray of salt water and occasional harsh weather. Paint samples will be analyzed to find modern matches for the historic colors.
"Despite the harsh weather, the project has been a joy to work on," said Thomas. "Porches are true mix of carpentry techniques, starting with rough framing, followed by precision shop work and finish carpentry. The last step is the roofing, in which each porch gets capped with standing seam metal roof. The variety of the work is enjoyable and never makes for a boring day." Meanwhile, HPTC employees in Maryland are fabricating all the millwork, including about 20 columns and approximately 12,000 linear feet of components. All salvageable pieces of the porch are being stripped of hazardous lead paint.
Both at the park and HPTC, safety is the highest priority. A project safety plan has been developed which all employees review and follow. Repairing the porches will add to visitor safety as well. By June, when repairs to the two porches are completed, visitors can once again climb the stairs and enjoy the same view of the sunset across Sandy Hook Bay that delighted officers' families a century ago.