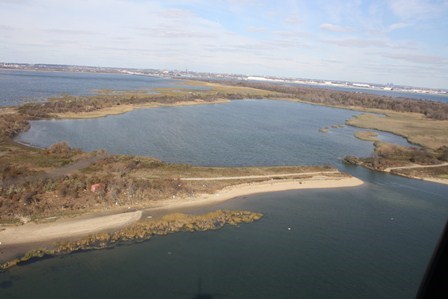 The National Park Service (NPS) has made the Environmental Assessment (EA) for the West Pond Breach Repair Project at the Jamaica Bay Wildlife Refuge available for public and regulatory review. This project will make the West Pond embankment and loop trail resilient to coastal storms and flooding and will protect environmentally sensitive conditions along the West Pond loop trail that support a diversity of Jamaica Bay habitat, wildlife and enhanced visitor experience.
The EA evaluates the potential impacts of four alternatives: two action alternatives, the NPS preferred alternative and the no-action alternative. The NPS preferred alternative includes filling and repairing the primary and secondary breaches and the subsequent restoration of West Pond and loop trail. The preferred alternative would be implemented in phases, with the initial phase addressing filling and repairing the primary and secondary breaches, replace the water control structure, the possible installation of a supplemental water supply system (either groundwater or municipal water) to provide freshwater to the pond, and restoring the West Pond loop trail. Future phases of work would include upland habitat restoration at Terrapin Point, shoreline and saltmarsh restoration to increase resiliency against potential future storm damage, and installation of other visitor amenities, such as boardwalks, trails, pathways, viewing blinds, and educational signage.
The ongoing participation of the public is very important to the success of this project. We invite you to attend an Open House to learn more about the project, the Environmental Assessment, to ask questions, and share your comments.
Open House
Jamaica Bay Wildlife Refuge Visitor Center
Thursday, October 22nd, 6:00 PM - 8:00 PM
175-10 Cross Bay Boulevard
Broad Channel, NY
The EA will be available for public review and comment for a period of 30 days from October 6 through November 6, 2015. Please go to https://parkplanning.nps.gov/gate to review the EA and comment electronically. You are also welcome to mail comments directly to:
Office of the Superintendent
Gateway National Recreation Area, Fort Wadsworth
Attn: Jamaica Bay Wildlife Refuge West Pond EA Project
210 New York Avenue, Staten Island, NY 10305
Written comments must be postmarked by November 6, 2015 for consideration.