Request for Proposals to Lease Bay 9 at Jacob Riis Park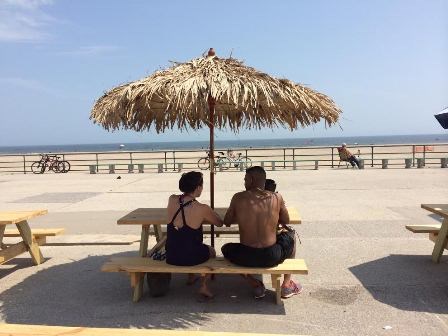 Gateway NRA is seeking to lease Bay 9 to provide fresh, creative, and diverse food and beverage options. This goal is part of the NPS's vision to create a destination known not just for its sand and sea, but also for its food and enhanced seaside attractions. Proposals must be received by the National Park Service no later than January 22, 2015 and should be addressed to:
Superintendent
Gateway National Recreation Area
210 New York Avenue
Staten Island, New York 10305
Attention: Bay 9 RFP
Proposals may also be submitted electronically at Gateway_BMD@nps.gov.
The question submission deadline is January 5, 2015. Questions must be submitted in writing via email to Gateway_BMD@nps.gov or by mail at:
Business Management Division
Gateway National Recreation Area
210 New York Avenue
Staten Island, New York 10305
Questions and their answers will be posted as Frequently Asked Questions (FAQs) on this website and will be viewable by the public.
The face of the sealed envelope shall include the Applicant's name and address, along with the following information:
BIDS ENCLOSED- MAILROOM DO NOT OPEN
Telephonic proposals, faxes, e-mail, and other means of transmittal will not be considered. Proposal submittals will not be returned.
Site visits are scheduled for the following dates:
Thursday, October 30, 2014
Thursday, November 6, 2014
Interested parties may attend on either date. Each site visit will begin at 10:00 AM. These site visits will allow all interested parties to tour the Premises and building location. Each interested entity may bring up to three (3) attendees on a site visit. Parties interested in attending these visits must RSVP to the Gateway National Recreation Area Business Management Division, via email at gateway_bmd@nps.gov by 4:00 Pm Eastern Daylight Savings Time, Friday, October 24, 2014. Please include the names of those who will attend in your email.
Applicants are advised that the U.S. Government will not pay for any information or administrative costs incurred in response to this notice. Not responding to this notice does not preclude participation in any future RFP.
---
RFP Release Date: October 24, 2014
---
Opportunity:
Lease the property for provide diverse food and beverage options.
---
Location:
Historic Bay 9 at Jacob Riis Park Beach, in the Jamaica Bay Unit of Gateway National Recreation Area.
---
Term
: Up to five years.
---
Site Tours
: October 30, 2014 and November 6, 2014. Please email Gateway_BMD@nps.gov if you'd like to attend one of these site visits.
---
Question Submission Deadline
: January 5, 2015
---
Proposed Submittal Deadline
: January 22, 2015
---
Anticipated Date for Selection:
February 20, 2015
---
Anticipated Lease Commencement: March 30, 2015
Last updated: May 2, 2018